Free Lola Doll Top
digital pdf sewing pattern
$0.00
View Sizing Chart
Whether you just discovered Violette Field Threads or you are long time fan, we would love you to try a full pattern for free!  
The Lola 18" Doll pattern is a sweet top with an empire bodice featuring a bodice and wrap around tie back straps.  The full baby doll style skirt has a panel that is perfect to mix and match fabrics!
The Instant Download PDF Includes:
Sizes: 18" Doll Sewing Pattern
Size Chart, Fabric Requirements, Fabric Recommendations, Notions, and Sewing Tips
Full tutorial and step-by-step instructions, including over 40 color photos to clarify each step for beginners
Printable, computer drawn pattern pieces with no scaling needed, just print on regular computer paper and cut pattern pieces
Click here to download the free Lola Coloring Page.
You might also like
Customer Reviews
Write a Review
Ask a Question
Filter Reviews:
pattern
dress
instructions
doll
granddaughter
experience
Result
size
girls
item
02/24/2022
An ingenious design
I discovered Violette Field Threads when looking for dress patterns for my new baby. I've always had a love of dolls though so I was even more excited about the matching doll patterns! And I just happen to have 2 Our Generation dolls which I bought to make clothes for long before my little one came along. And this pattern has been just perfect for me to sew while my baby naps in the sling: quick, small and simple. It only took me about 3 hours to make and the instructions are very clear and easy to follow. The pattern went together perfectly and fits the doll very well. I really love the design and the interesting way it closes using the shoulder straps. The elastic at the back also makes it very easy to put onto the doll. I will definitely be purchasing some more patterns very soon (human and doll sizes) and have a feeling that these dolls are going to have quite an extensive wardrobe by the time my daughter is old enough to play with them!
Joanne

United Kingdom
12/07/2021
Excellent free doll pattern!
I am pretty new to garment sewing, never made a doll dress before. This was a great pattern! The steps are very easy to follow with photographs. It took a little attention at the beginning to make sure I understood all the pieces that needed to be cut (since I was using material out of my scrap bin) but after that it was smooth sailing. The finished dress looks so professional and very cute on my 18" Cabbage Patch Doll! If I make it again I might try to make the back bodice a little bit wider so it fits over my dolls head (since the heads are bigger than American girl dolls) but the dress fits just fine going up from the feet.
Sarah T.

United States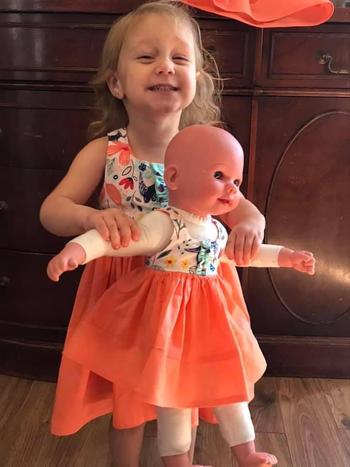 08/20/2021
Lola doll dress
Loved making the matching Lola doll dress to my little girls dress ! Very easy to follow the photo instructions were very easy to follow. This a the Lola for little girls (size 2) was my very first sewing pattern.
Tanisha W.

Canada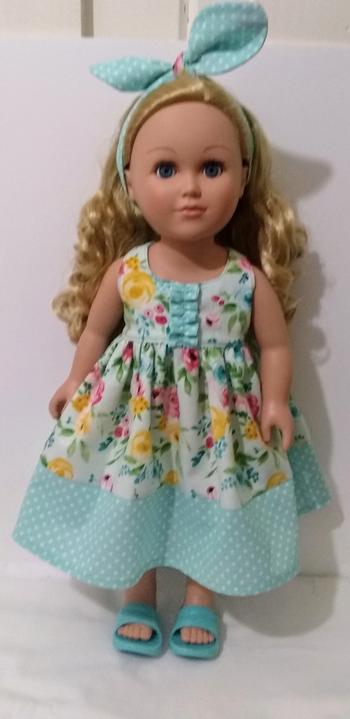 07/21/2021
Lola dress
I absolutely love this pattern! The directions were a breeze to follow and the end result was fabulous. The dress sold within minutes after I posted it.
Donna M.

United States
06/29/2021
Lola top
I really love the way the Lola top turned out. I put a pair of pants with ruffles on the hem in the contrasting fabric. I also made a purse with a ruffled edged. This is for my 8-year-old granddaughter.She is thrilled with her new doll's outfits. Thanks for the great patterns. I have bought a couple already and plan on buying more.
Jeannie B.

United States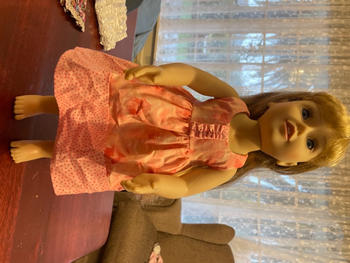 06/10/2021
Free Lola doll top
Instructions easy to follow. Fits the Australian doll well. Sorry fabric is crushed in photo.
kay w.

Australia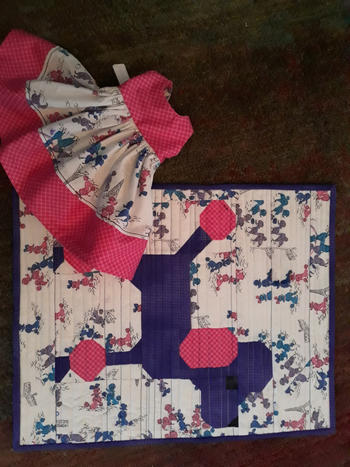 04/13/2020
This was fun and easy
This pattern was easy to follow and the results couldn't have been better. I plan on buying more patterns.
Marie L.

United States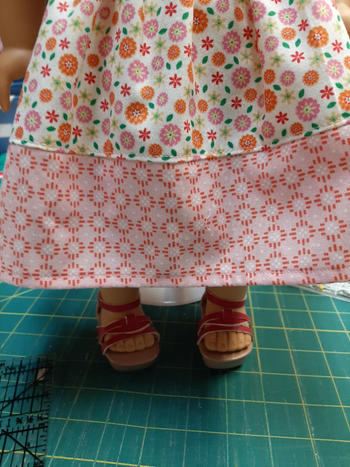 04/05/2020
Lola Doll Top
I loved it. It was easy to follow and turned out beautiful!!
Diane P.

United States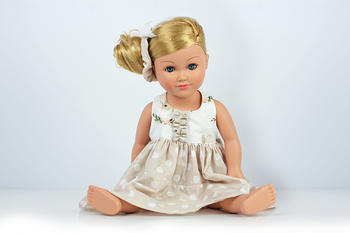 02/02/2020
Super Simple
This is a super simple make. I love that you can match it to the larger girls FREE Lola. How fun! My granddaughters loved them.
Kim B.

Canada
06/22/2019
Lola doll dress
Excellent. The pattern was very easy to follow and detailed. I will definitely recommend these patterns.
Cathy M.

United States
03/25/2019
Lola dress & top
This is such an adorable top! It was very easy to make & looks so pretty on my doll. I know I'll be making the dress & more tops. I saw other patterns on your website I would like to purchase in the future. Thank you! Patty Just4dolls
01/04/2019
Lola Doll top
Very easy pattern and easy to modify for a 1950's Madame Alexander baby doll. I just made the straps insert into the back bodice rather than tie, for ease in dressing.
12/16/2018
Love this!
Very easy. The child size was one of my first and favorites. The doll is just as easy. Thanks again.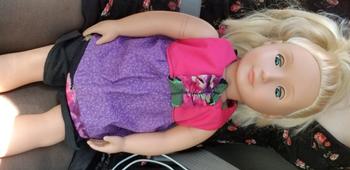 08/03/2018
Perfect for matching
Love these doll patterns for matching with my little princess
08/29/2022
Free Lola Doll Dress
I have cut all pattern pieces and exited to sew it. This will be my first dress for my AG doll.
07/02/2022
AG Doll Stylish Pattern
I have not had an opportunity to make it yet but I read the detailed instructions which will help me through each step. Your store has a beautiful selection of patterns
Bev G.

United States
06/04/2022
Lola Doll Top
Love these doll patterns to make doll clothes for my granddaughter's American Doll. I need help recapturing some patterns I've bought in the past. My computer crashed and unfortunately I didn't save your emails with the links. Can someone help me? Jamie
Jamie G.

United States
01/30/2022
Lola doll shirt
It was a really fun pattern, incredibly cute result. Absolutely beautiful
Polacsek

Australia
01/23/2022
great patterns all
very easy to follow and turned out wonderful
Jeannette C.

Canada