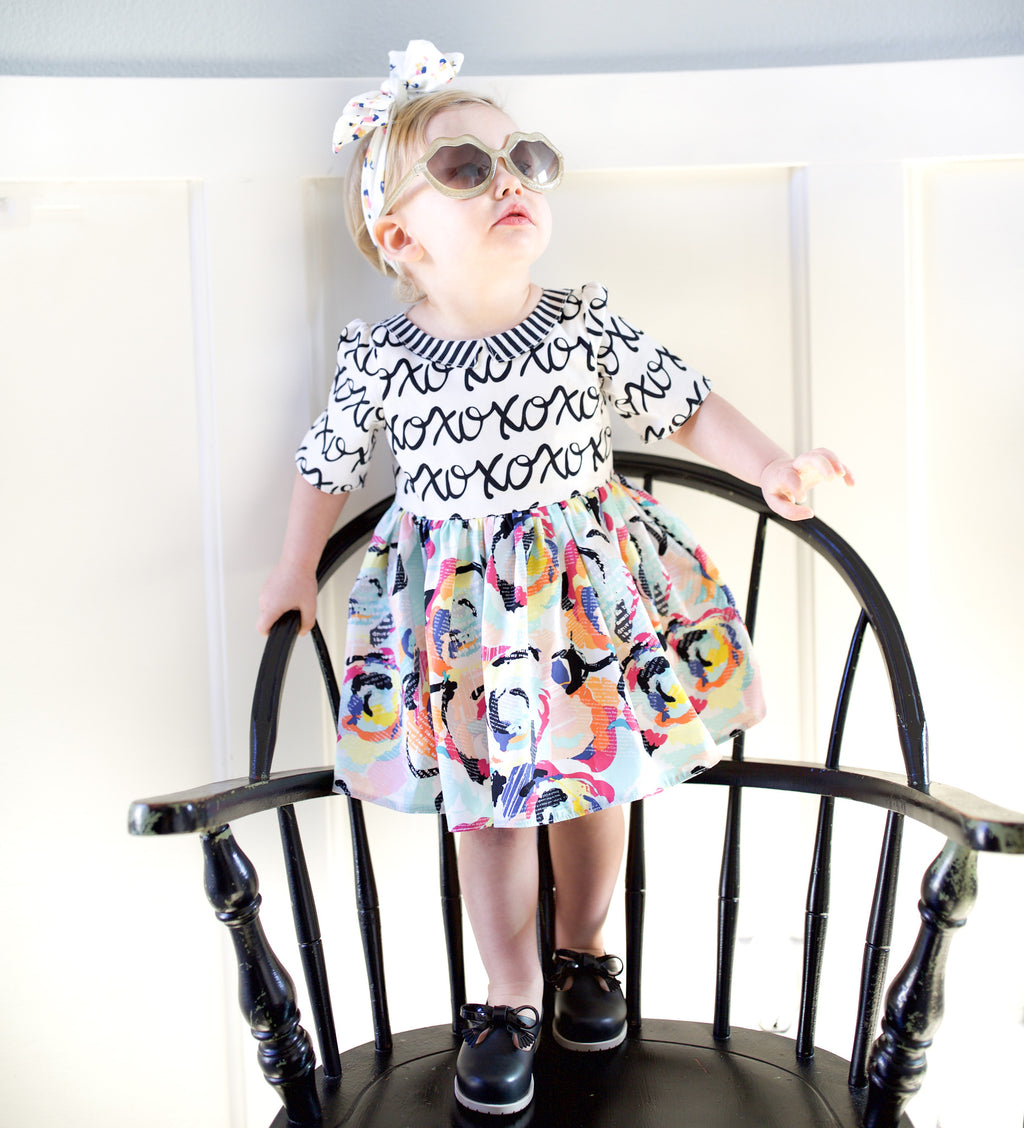 It is a GIRL! Congratulations!
We are so excited to welcome to the family, Baby Pepper!
Hello VFT Family, Alexis here taking over the blog and sharing my latest pattern. The well loved and very popular Pepper pattern has now shrunk to baby sizes. lol
Sizing: 0-3 mos, 3-6 mos. 6-12 mos, 12-18 mos and 18-24 mos.
She is just like the bigger sizes and comes with the cutest petite collar and a full gathered skirt. Baby Pepper also includes a placket to help with the ease of dressing those wiggly bodies. :)
Baby Pepper also comes with 3 sleeve lengths Full, 3/4 and above the elbow. All season sleeves, right??!!!
(Above the Elbow)
(3/4 Sleeve)
(Full Sleeve)
Of course every good Pepper Dress needs a pocket (you never know what those babies will put in there. ;)
(Yes, that is a Lego guy in the pocket. That is what happens when you have a boy in the house.)
Baby Pepper comes in two lengths:
Dress Length- Finishes 1- 1 1/2" above the knee
Top Length which is SOOOO cute with bloomers! That is seriously one of my favorite "looks" when I was sewing for my own Etsy shop. It was also one of the most popular sellers.
I swear I could eat up all the adorable babies every time their amazing Mommas posted pics in the tester group. One thing is for sure they don't sit still to pose.  Right ladies???!!! Hahahaha!
If this was not exciting enough we are offering one person a chance to win the  Baby Pepper pattern and 4 yards of Art Gallery Fabric's newest collection, CAPSULES! 1 yard of 4 of the Capsules prints.
1 yard each: Roses and Letters, XOXOXO , Slanted Lines and Alternate Angles
The giveaway will run from today until Sunday 12 pm. I will announce the winner by Tuesday on VFT group page! 
Grab your copy of Baby Pepper HERE for only $5! Oh and GUESS what, Kid Pepper is on SALE for only $5 From now until Sunday Night. Wahoooooooo!!!! We now have Baby Pepper, Kid Pepper and Tween Pepper!!! 
Until next time VFT Family!!!
Fabric- Sharon Holland- Coastline for the main body of the dress.
Pat Bravo- Essentials II for the collar fabric.
XOXO
-Alexis