Elle Elephant 18" Stuffie Animal Pattern
digital pdf sewing pattern
$9.95
View Sizing Chart
Elle Elephant is an adorable 18" stuffie animal pattern inspired by the circus! She has big ears, a precious trunk, and dainty details on her face. Elle Elephant is perfect to create a one of a kind stuffed animal that will be an instant favorite. Elle Elephant also makes the perfect gift!
Elle Elephant includes: Elle Elephant 18" Animal Doll Sewing Pattern, Party Hat, Neck Ruffle & Mini Tutu!
Elle Elephant, along with all of our other 18" doll patterns, is designed to perfectly fit all of our 18" doll clothing patterns, making them a wonderful choice for kids that still prefer stuffed animals.
The Instant Download PDF Includes:
18" Animal Doll Pattern 

Size Chart, Fabric Requirements, Fabric Recommendations, Notions, and Sewing Tips
Full tutorial and step-by-step instructions, including over 40 color photos to clarify each step for beginners

Includes (3) Downloadable Files:

US Letter (A4 compatible): Print from home with regular computer paper, tape together, and then cut pattern pieces

A0 Copy Shop (Projector compatible): Send off to print large scale or use with your at home projector

SVG: For use with a vinyl cutting machine and software
You might also like
Customer Reviews
Write a Review
Ask a Question
Filter Reviews:
pattern
instructions
Elle
granddaughter
love
collection
rest
sewing machine
animal
stuffie
07/19/2021
Superb!
I loved making this stuffie! Easy to follow instructions and so much room for creative license. I can highly recommend this pattern, even if you are new to sewing.
Genevieve

Australia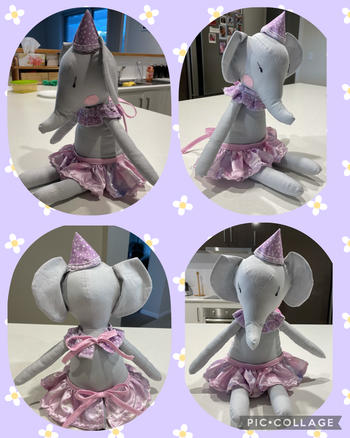 05/05/2021
Ellie elephant stuffie
First time sewing anything like this, easy to follow instructions made it easy Love how it turned out
Mandy G.

Australia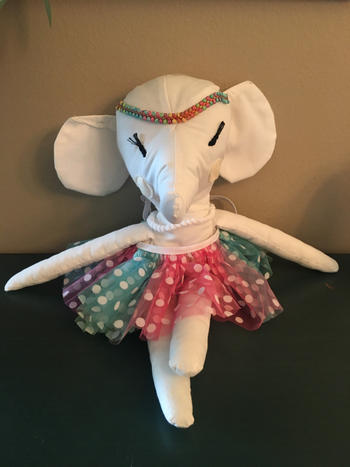 04/29/2021
Review on Elle the Elephant
I can't believe how easy these instructions were to understand and follow! I've never made a stuffed animal before and haven't seen in years! I actually had to buy a sewing machine in order to make this for my niece. I'm so happy with the results. Thank you!
Christine M.

United States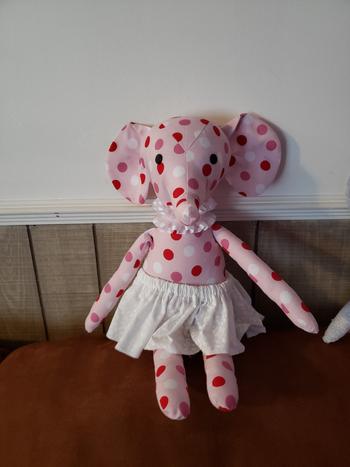 12/21/2020
Awesome pattern!
I love Ellie elephant! Easy to follow pattern, great instructions. My granddaughter loved her as soon as she saw her!
Rebecca D.

United States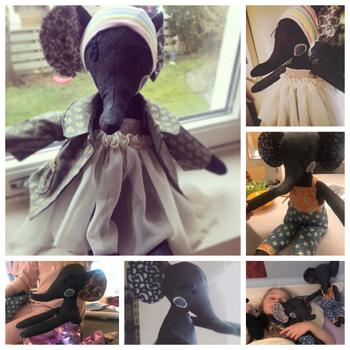 03/20/2020
Lovely pattern
I have made four so far, love this pattern. Had never made a stuffie before, but the instructions were good and clear. Only issue is with attaching the arms, I prefer to sew them in the side seams. Love that we can use the doll clothes patterns to dress the stuffies.
HJ
Henriette J.

Norway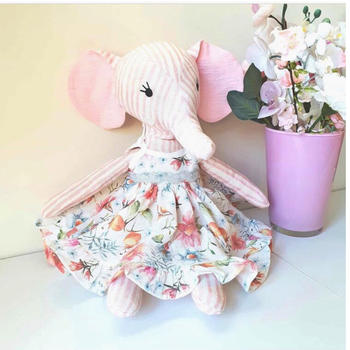 02/25/2020
Question about selling your Elle Elephant sewing pattern
We have a small design and textile company in Sweden that we started a couple of years ago. Some of our designs are printed on 100% linen fabrics which look beautiful as stuffed toy animals such as Elle the Elephant. We meet our customers at sewing fairs and also sell fabrics and textile products through a webshop and are now interested in selling a sewing kit which includes cut out fabrics, wool stuffing and the Elle Elephant sewing pattern from you. As we have never sold sewing patterns before, we are now wondering if this is possible and if so, what the copyright cost would be if we were to do this? Please reply to: anna.hedeklint@gmail.com Kind Regards Anna
Anna H.

Sweden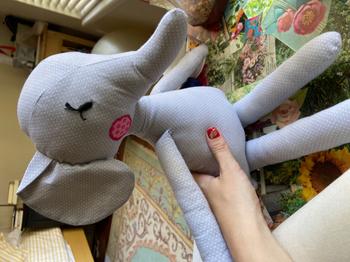 12/21/2019
Beautiful elephant!
This pattern is precious, I love how Elle turned out! The instructions were clear and easy to follow as are all VFT patterns. I can not recommend highly enough!
Amelia R.

United States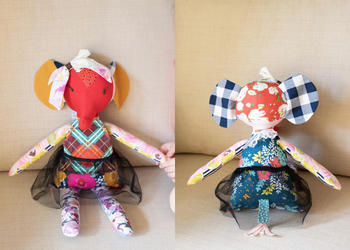 12/15/2019
Great Pattern!
The pattern was very easy to follow. No issues at all. I used scraps from my projects this year to make a scrappy Elle.
Amanda B.

United States
01/17/2019
Amazing pattern - and so giftable!
This was my first stuffie pattern and I am absolutely in love! I cannot wait to make the rest of the collection! The pattern was easy to follow and assembled mostly on my sewing machine. My first Elle will be a gift for my best friends daughter and I am SO excited to see her reaction! I think it will become a favorite for sure!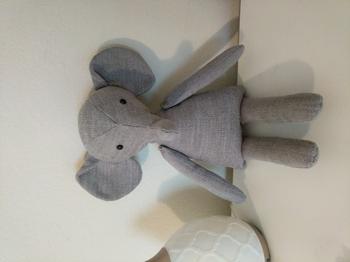 01/10/2019
Best VFT stufffie!
I made two of these for Christmas for my son's. Well, I turned one into a koala and they are adorable! Great instructions. It's not my first stuffed animal, but I'm certain that this pattern would be perfectly suitable for a first timer
01/27/2023
Elle Elephant
I have made Elle Elephant. The instructions were very easy to follow and the toy went together well. It looks great! I also made PJs for a small girl in the same fabric. This will likely form part of an online auction basket for my church. Thank you!
Ava T.

Canada
07/02/2022
pattern choice
loved it! I will make again
CINDY A.

United States
08/20/2021
Elle the Elepjant
I love the pattern! Directions were very easy to follow. I have a granddaughter soon to be born. I brought down my35 year old bridal gown and I'm going to incorporate that dress into the pattern. Yes I would purchase from you again!
ELIZABETH D.

United States
12/13/2020
Challenging project but worth it.
Loved this project. So cute when completed. The pattern is a little more complicated than the others but totally worth the extra effort and time. The instructions are very clear and easy to follow. I would prefer a different solution for the eyes but that's because I dislike embroidery.
Mrs J.

United Kingdom
09/05/2020
Amazing pattern
As of now I have made 8 elephants and orders for 5 more so far. She is just amazing. I'm also making several dress patterns for her.
Christy L.

United States
12/30/2019
Elle the elephant
It was easy even for a French sewist who don't speak currently English and the result is Wow!!! I recommand it!
Patricia W.

France
09/16/2019
Elephant
Brilliant. So well explained and instructions easy to follow.
Sharon F.

United Kingdom
01/04/2019
Now own whole stuffed animal collection
I am only now getting to make my elephant as I did not have time over the holidays; but I expect that my Elle elephant will turn out just as cute and well made as the rest of the collection that I have made using your patterns.
12/27/2018
Great
Easy, user friendly pattern.