Sale
Kate Top, Shorts & Dress
digital pdf sewing pattern
$9.95
$4.98
View Sizing Chart
With Kate, you have plenty of options that are perfect year round! Kate can be sewn as either a Dress or a Top with ruffled Shorts! Both styles feature an optional sweet scalloped apron and adjustable strap closure. The straps have an option for a flutter sleeve that is truly adorable! Besides the dress and top, Kate also includes a pattern for ruffle shorts that are perfect for Spring and Summer! 
A reversible handkerchief headband pattern is also included to finish off your perfect Summer ensemble!
Kate's fit is loose, perfect for Summer heat and Fall layering. We love layering the Phoebe top underneath, which makes this special little design's versatility such a wardrobe staple. 
The Instant Download PDF Includes:
Sizes: 2T-10 years
Size Chart, Fabric Requirements, Fabric Recommendations, Notions, and Sewing Tips
Full tutorial and step-by-step instructions, including over 40 color photos to clarify each step for beginners

Includes (2) Downloadable Files:

US Letter (A4 compatible): Print from home with regular computer paper, tape together, and then cut pattern pieces

A0 Copy Shop (Projector compatible): Send off to print large scale or use with your at home projector
Click here to download the free Kate Coloring Page.
You might also like
Customer Reviews
Write a Review
Ask a Question
Filter Reviews:
pattern
shorts
dress
instructions
girls
both
granddaughters
design
times
attention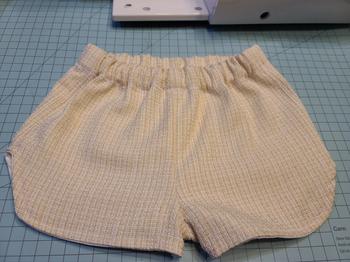 04/25/2021
Kate shorts
The Kate shorts are super cute and fit well. It's an easy sew for a beginner. I haven't made the top or dress because I'm not the best at making ruffles.
Danielle A.

United States
04/20/2021
Great Pattern
These shorts are quick to sew and look great. I made both the girls and the doll. My tween grand wishes they came in her size!
Sandy L.

United States
03/07/2021
Easy to sew
I bought this pattern last year. I wanted to make this lovely outfit for my granddaughter's. I made both of them tops and shorts using this pattern last year. But I have recently bought the " Belle top and leggings" pattern. I can't go shopping to buy knit fabric, because we are still in level 5 lockdown. So I had enough fabric left over from the Belle top to make these shorts to go with it. I think they will look lovely together. This pattern is so quick to sew. I will definitely be making use of it for a long time. Although my granddaughter is 3 year old. I made size 5 because she is so well built. The coffee colour shorts I made for my 9 years old granddaughter. She loves them and says they are very comfortable to wear.
Sandra C.

Ireland
09/10/2020
Kate
I bought this pattern to make these beautiful designs for my Granddaughters. I was so excited to start making them. Corona virus had us all in lockdown. The sun shone bright in Ireland. Yay I said. I'll be the happiest Grandma in the country. I bought fabric. I made the shorts for both of my girls. I then made the tops. The girls would be beautiful wearing these lovely outfits in the sun. But this is Ireland, the sun went off on holiday in June. It hasn't yet come back. So now these beautiful, easy to follow perfect outfits are sitting around in the closets. But I have now bought the Julianna pattern. This will definitely be worth working on.
Sandra C.

Ireland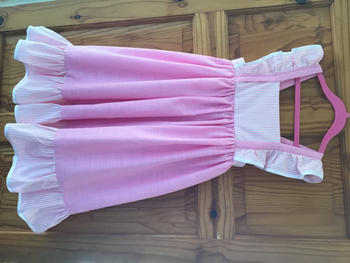 08/11/2020
Kate Dress
As always an easy pattern to follow and quick to make up. However for once there was a small thing I wasn't happy about. The straps are fiddly to assemble and I felt looked untidy when attached to the bodice. I shall certainly make it again but would try to construct and attach the straps differently.
Eve K.

United Kingdom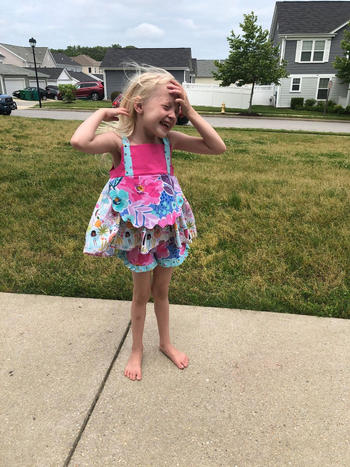 06/04/2020
Kate <3
All the love for this one! I made the top with shorts and my daughter loves it!
Jessica B.

United States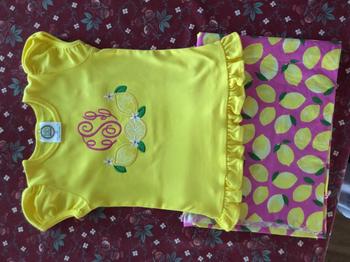 08/05/2019
Cuteness Overload
I have only made the shorts but they stitch up so quickly and are adorable. The instructions are so clear.
Nancy S.

United States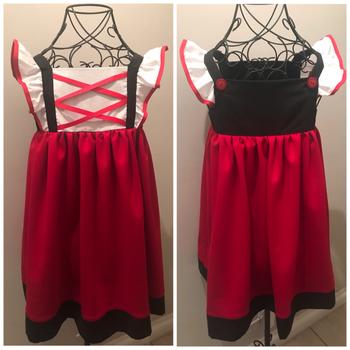 10/19/2018
Fantastic pattern
This was my first time making a dress! I had never purchased, assembled, and used a pattern. The VFT tutorial made it so easy and my daughter's dress ended up being amazing. Can't wait to purchase more patterns!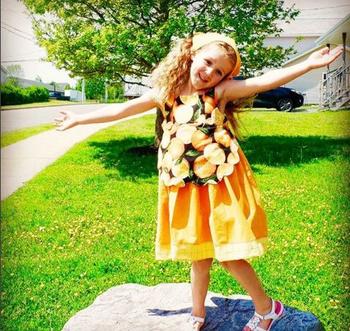 08/03/2018
Adorable
I've made one of these so far and it turned out wonderfully. My daughter loves the scalloped apron, and the little kerchief is the perfect addition.
HC
Heather C.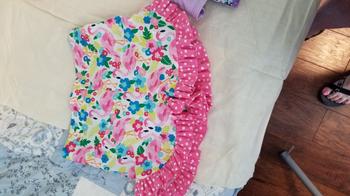 07/03/2018
Excellent shorts pattern
Loved the pattern and all the detailed pics and directions! Thank you again!
06/03/2018
Love this pattern!
The pattern is simple to put together and use. The picture directions make it easy to follow along. I also love that I can make different versions and add shorts to an outfit with this pattern. Love VFT patterns. ♡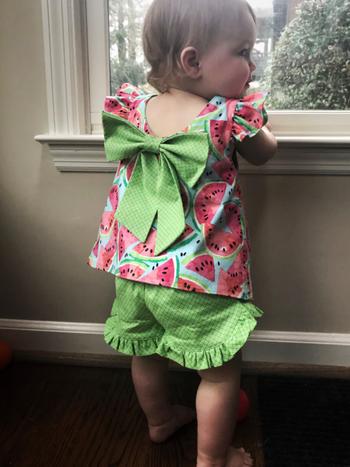 06/02/2018
Love the shorts!!
I purchased this pattern after seeing others use the Kate shorts for various VFT tops and dresses. They are so easy to whip up and are absolutely adorable! They are my go to pattern for shorts.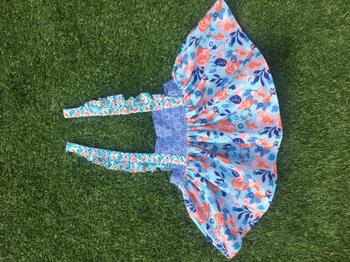 05/02/2018
Great Pattern!
This pattern is so easy and such a joy to sew up. The end result is fantastic, and the construction is really quick. The shorts are a real favorite too!
04/28/2022
Great shorts pattern!
I love this pattern. The fit is perfect.
04/07/2021
Kate top and shorts
Just what I wanted, great design and easy to follow the pattern. Thank you!
Rachel A.

United Kingdom
05/31/2020
Patterns are amazing Very boutique quality!
I have not used this pattern yet, but will very soon, so far the patterns are easy to use and decipher.
Melinda G.

United States
05/08/2020
Kate shorts
I love these shorts. They look amazing. The ruffle adds to the cuteness. I have made 3 pairs for my 2year old granddaughter,bI have also made some for my 9year old granddaughter. Both of them think I'm the best Nanny since Nanny's were made ( lol). I'm absolutely looking forward to making the top and dress. The pattern was so we'll put together, the instructions are very clear. I love it. Thank you, your patterns are keeping our minds alert in these strange times.
Sandra C.

Ireland
04/22/2020
Nice shorts and top
Patterns are easy to use. No problems whatsoever.
Martha D.

United States
12/30/2019
Dear Violette Field Threads
I love your patterns ! Iam looking forward to sewing patterns :) Thank you for your attention to detail in your patterns as well as your help with any questions ♥️ I definitely will buy from you again !
Carol P.

United States