Sale
Willow Skirt
digital pdf sewing pattern
$9.95
$4.98
View Sizing Chart
The Willow skirt is so fun and versatile.  Willow features a full skirt with rounded pockets and a faux button placket. The waistband is flat front for a polished look, but elastic back for ease of fit and comfort during wear.
Willow also features optional attached suspenders that tie in a bow on the back.  They are so cute over tees and blouses.  The skirt is designed to fall 1-2" above the knee, but can easily be lengthened (or shortened) to suit your individual style.
 Willow is perfect for all occasions and will quickly become a favorite!
The Instant Download PDF Includes:
Sizes: 2-10
Size Chart, Fabric Requirements, Fabric Recommendations, Notions, and Sewing Tips
Full tutorial and step-by-step instructions, including over 40 color photos to clarify each step for beginners
Includes (2) Downloadable Files:

US Letter (A4 compatible): Print from home with regular computer paper, tape together, and then cut pattern pieces

A0 Copy Shop (Projector compatible): Send off to print large scale or use with your at home projector
Click here to download the free Willow Coloring Page. 
You might also like
Customer Reviews
Write a Review
Ask a Question
Filter Reviews:
skirt
pattern
instructions
darling
granddaughters
waistband
Hermione Granger
Willow
Halloween
buttonholes
07/29/2021
Adorable
A quick and easy sew, and a lovely result. I always find myself wishing that these VFT patterns came in my size >3 Thank you!
Jillian S.

United States
11/12/2020
Willow Skirt
I loved making this skirt. Super easy to read instructions, the pictures were helpful.
Melissa B.

South Africa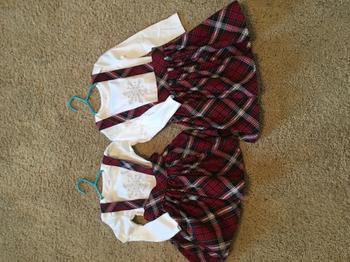 12/23/2018
Willow Skirt
Darling pattern. Quick easy sew with great instructions. Love VFT.
10/02/2018
Willow skirt
The pattern was easy to use and looked beautiful, just the style and design I was after. My only problem was that the skirt was not easy to put on, my daughter although petite really struggled to get the size 10 skirt on. Once it was on it looked great but unfortunately I would not make this skirt for others or gifts, or if so I'd make sure I made a size or two bigger than the listed measurements.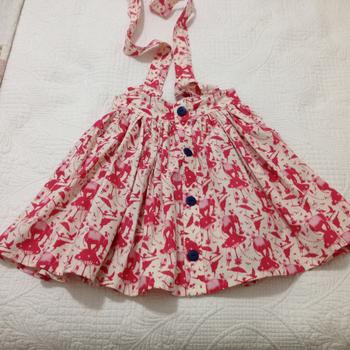 09/05/2018
Willow skirt
I have made two skirts using this pattern. The pattern is easy to follow with clear instructions and the fit is perfect. My Granddaughters absolutely love their skirts.
08/24/2023
Willow
Second time I made it, I put right sides of fabric waistband and skirt together…leaving lining lose to sew to the waist later. I also cut the straps down. There are no clear instructions about attaching straps…to front? To back? Where do the buttonholes go? On the straps? On the waistband? I do love the look of the skirt and my granddaughters love the fullness.
Ann D.

United States
12/15/2021
Read the Directions!
I made the Willow skirt without the front placket or suspenders. Thought that I could just breeze through it. Nope, the waistband threw me. I will never sew a pattern for the first time without fully reading each step before I begin. After a lot of ripping out, it turned out darling and my granddaughter loves it. Sorry I don't have a picture.
Susan W.

United States
09/10/2021
Willow skirt
This pattern is great and well suited for those with little sewing experience to those of us who have been sewing for 100 years! I am now using it to make a box pleated skirt for my granddaughters Halloween costume. Hermione Granger.
Brenda M.

United States
07/27/2019
Willow skirt is fabulous
Great, clear, easy to understand patterb. Result.is an amazing looking skirt whoch can be made super casual or dressy.. simple and elegant. Will be making this skirt several times over!
Katie C.

New Zealand
07/11/2019
Willows skirt
I really liked patton's I've already done two skirts paea my niece I like the pattern of Violette
Olga G.

United States
02/24/2019
Willow Skirt
The instructions were so easy to follow and the skirt turned out absolutely beautiful. I have already ordered more fabric to make more of this darling pattern!
10/16/2018
Willow Skirt
Loved the results!
04/02/2018
Willow skirt
Love this pattern. Cannot wait to make another one.
01/24/2018
Willow Skirt
The skirt is adorable and the pattern directions were great!
11/27/2017
Willow
The skirt was easy to make. The directions easy to follow. Love the pockets!
11/26/2017
Willow Skirt
The Willow skirt is so easy to put together and both my daughters love it. The pockets are perfect for keeping their little treasures.
11/25/2017
Willow skirt
Very good pattern
11/25/2017
Willow
It has become my favorite skirt pattern. I made about 8 of them for the grandkids. My GD received a lot of compliments on it for Thanksgiving. I just don't add the suspenders.