Sale
Abigail Dress
digital pdf sewing pattern
$9.95
$4.98
View Sizing Chart
Our Abigail woven dress pattern is a vintage inspired beauty! It features a unique bodice and a skirt design with a front panel running down the middle of the dress.  
The high, rounded neckline includes an optional ruffle. We love combining this option with the small ruffle sleeve. Such a sweet look! There are 3 skirt options for Abigail: a precious vintage length, a knee-length and a show-stopping double skirt! There are also 3 different sleeve options: sleeveless, small ruffle and vintage-inspired puff sleeve! Abigail also includes an optional waist sash that is sure to wow everyone. 
Abigail features a zipper back closure for quick in and out outfit changes for big sis or little sis as well (since Abigail also comes in our baby size range!).  
The Instant Download PDF Includes:
Sizes: 2T-10 years
Size Chart, Fabric Requirements, Fabric Recommendations, Notions, and Sewing Tips
Full tutorial and step-by-step instructions, including over 40 color photos to clarify each step for beginners

Includes (2) Downloadable Files:

US Letter (A4 compatible): Print from home with regular computer paper, tape together, and then cut pattern pieces

A0 Copy Shop (Projector compatible): Send off to print large scale or use with your at home projector

Click here to download the free Abigail Coloring Page!
You might also like
Customer Reviews
Write a Review
Ask a Question
Filter Reviews:
pattern
dress
Abigail
instructions
granddaughters
Result
skirt
bodice
zipper
style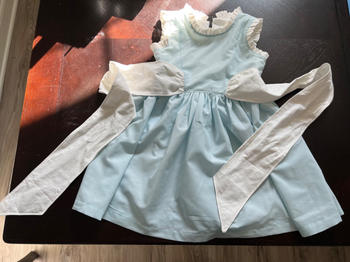 04/03/2022
Very user friendly pattern
One of the best dresses I've ever made. Always very easy to understand instructions, even for beginners.
Brooke B.

United States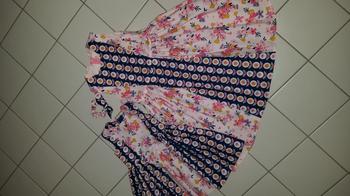 08/10/2021
ABIGAIL
I have loved your dresses for for and style! I always make 3 at a time . I have 3 grams girls that just love them too! The only problem I had with this dress was the way the zipper was put in.. I think buttons would have been better or maybe the traditional way of putting g a zipper in would have made the dress more professional looking..
Debbie G.

United States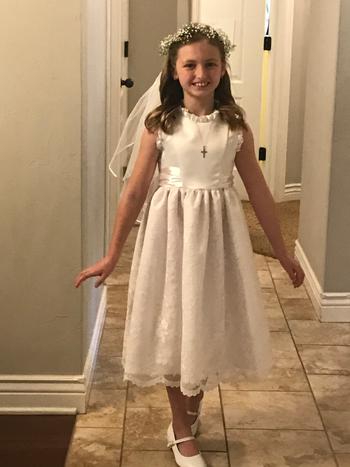 04/26/2021
Abigail Dress a Success
My daughter picked this pattern for my granddaughters First Communion Dress. It turned out beautifully and the sizing was spot on! I had to lengthen the skirt to be more of a tea length and then added a lace over skirt. The ruffles were done in double faced satin ribbon, as the fabric (a satin backed crepe) was too thick to use when doubled and gathered. The only other change was to use an invisible zipper. The instructions were very clear. The pattern was wash to assemble and the end result was beautiful! I had a very happy granddaughter
Connie B.

United States
03/23/2021
Loved it
I loved seeing this dress for my daughter. Easy to follow instructions.
Diana R.

United States
03/10/2021
My all-time favorite
My all-time favorite. I love this pattern. so versatile so nostalgic and so easy to put together.
Ruth C.

United States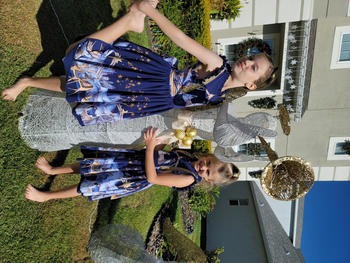 12/03/2020
Abigail is perfect!
Loved this pattern. I used it for the granddaughters' Christmas dresses and they are perfect for each one of them!
Theresa K.

United States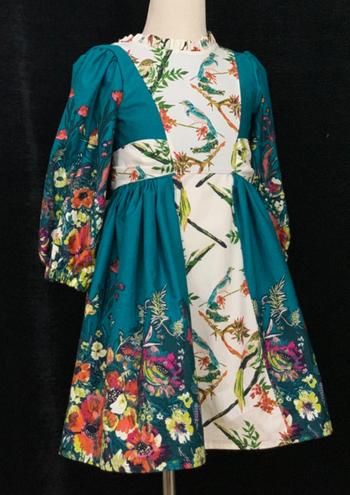 11/04/2020
Showstopper
I love the different looks that can be created with the various options for Abigail. It can be relatively casual or totally fancy. Either way, it is an attention-getter with the center panels. I used modified Emery sleeves, but I'm sure I'll come back to Abigail time and again to mix it up in different ways.
Amber O.

United States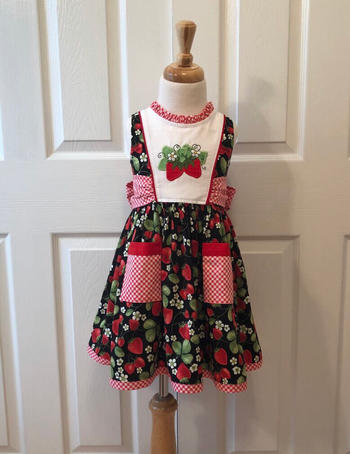 09/18/2020
Gorgeous Dress!!
Abigail is one of my very favorite VFT patterns! Easy to assemble with a beautiful outcome. It has a perfect panel on the front bodice for embellishing. I chose to machine embroider mine. All in all, a very lovely pattern.
Barbara

United States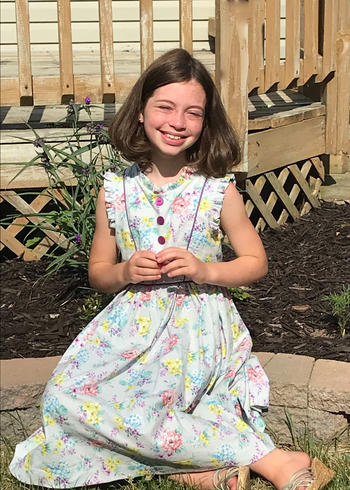 07/26/2020
My granddaughter loves her dress.
Your pattern was arranged differently than store-bought pattens; but once I figured out where everything was, it was easy to follow. The biggest change: seams are 1/2" instead of 5/8". The size came out perfect. I love all of your feminine styles. I am definitely a B.I.G. fan of yours.
Linda T.

United States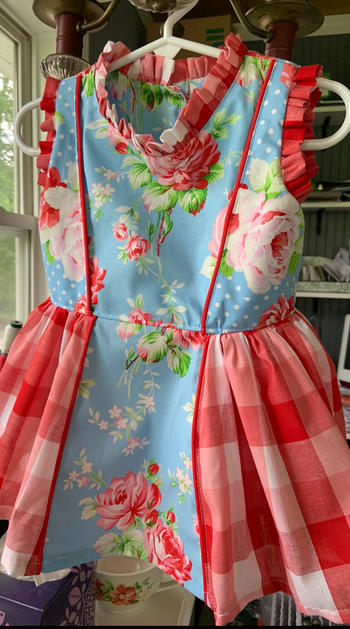 05/05/2020
Excellent pattern!
Loved how easy this was to sew! I like how you can use multiple fabrics to bring out all the details in this pattern.
Patricia R.

United States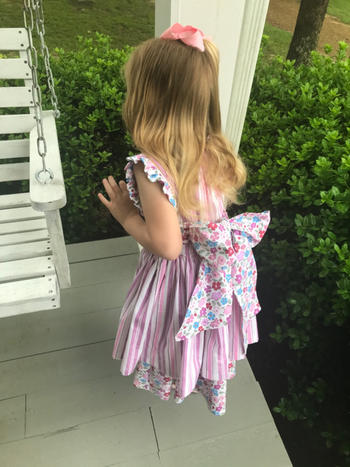 05/02/2020
Adorable
Pattern was easy to follow and result was beautiful! An absolutely adorable dress!
nichole c.

United States
08/02/2022
Beautiful dress, fits well but instructions not great
Instructions were a bit tricky, just little mistakes that make things difficult, lack of plurals meaning you are looking at one bit which should be two, skipping between inches and centimetres, plus the cutting instructions for the double skirt are very confusing. I extended the skirt to it,but it says to extend from the top which would be very difficult and give an odd shape to the dress so I extended from the bottom which worked. The dress is beautiful, the fit was spot on like a glove but no growing room at all so bear it in mind if you want it to last longer.
04/19/2021
Lovely pattern
Pattern and directions are excellent. Working on sleeve ruffles for bodice now.
Joan M.

United States
04/07/2021
Adorable Dress
Such a great dress! I made my first Abigail using the full skirt and shortened it a bit for everyday summer wear. She lives it and it's so adorable. Can't wait to make a few more trying different looks. Thank you for such fabulous patterns and an inspiring fb community.
Melanie D.

United States
03/22/2021
Haven't made this one yet
Love your patterns. Have not made this one yet
Joan H.

United States
03/21/2021
Ava's Abigail dress
Almost finished making the first dress. Made a few changes but overall very happy with the whole process.
Janice C.

United States
03/19/2021
Abigail dress
Have not actually used this pattern yet. But I have loved all the other's from Violette Fields so far! Sure this will be just as good.
Terre S.

United States
01/08/2021
Great pattern
Excellent and cut out with ease and now waiting on material to make it up
Kenneth M.

United Kingdom
10/05/2020
Awesome
Perfect, flawless pattern. I love this company will continue to patronize them!
Yokeca W.

United States
09/14/2020
Abigail dress
I will purchase again. Thank you!
Carolyn E.

United States