Ruthie Top & Dress
digital pdf sewing pattern
$9.95
View Sizing Chart
Ruthie is a gorgeous baby doll style top or dress. The slim band bodice features shoulder ties that secure in the back and allow for an adjustable fit. Ruthie has a button back bodice finish.
Ruthie has five styling options:
Scallop Back Top
Simple Top
Simple Dress
Tiered Ruffle Dress
Optional Strap Flounces
The Instant Download PDF Includes:
Sizes: 2T-10 years
Size Chart, Fabric Requirements, Fabric Recommendations, Notions, and Sewing Tips
Full tutorial and step-by-step instructions, including over 40 color photos to clarify each step for beginners
Includes (2) Downloadable Files:

US Letter (A4 compatible): Print from home with regular computer paper, tape together, and then cut pattern pieces

A0 Copy Shop (Projector compatible): Send off to print large scale or use with your at home projector
Click here to download the free Ruthie Coloring Page.
You might also like
Customer Reviews
Write a Review
Ask a Question
Filter Reviews:
dress
pattern
instructions
tops
daughter
girls
results
version
printing
measurements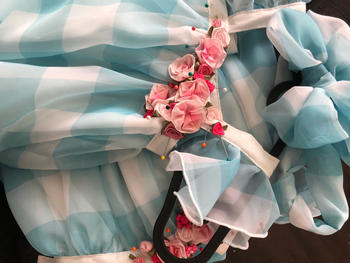 04/04/2022
Simple and Sweet
This is a simple dress that looks really cute when finished. It doesn't require many pattern pieces because most pieces can be measured and cut without a paper pattern. I did a sheer overlay and added one ruffle to the bottom of the simple dress - very cute! Looking forward to my girls wearing their dresses on Easter!
Sarah R.

United States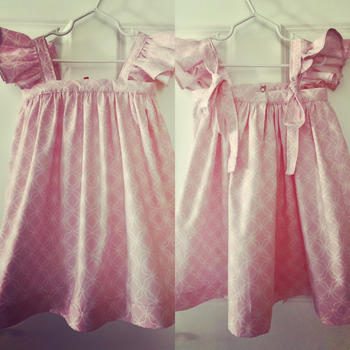 03/16/2021
Ruthie Simple dress
Very easy to sew. I am a moderate experienced sewist.
Bays

United States
01/19/2021
Absolute love
I used some beautiful linen and made the tiered version!!!
Denise G.

United States
09/07/2020
Love at first stitch
Super easy directions to follow! I am a newbie and it was a breeze to understand. I'm hooked!
Stockton, S.

United States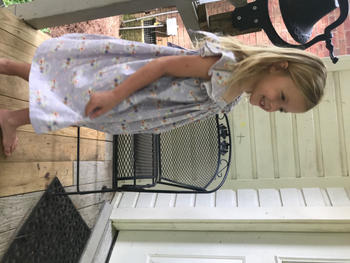 07/08/2020
Completely adorable!
This dress is even cuter than I thought it would be. I struggled a little with the band for the bodice, but in the end it turned out! And my 4 year old loves it!
nichole c.

United States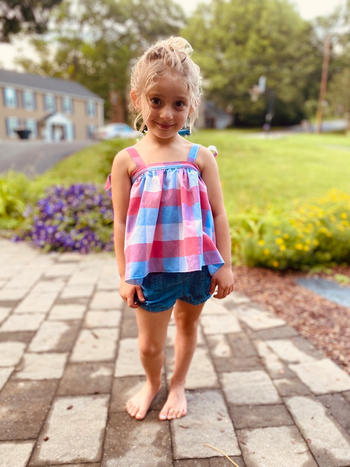 07/03/2020
Go to summer top!
I made the top version and it was a quick, easy sew with the most adorable results! It's definitely my new go to summer top.
Jessica W.

United States
05/08/2020
Ruthie
Once again another simple yet beautiful pattern to follow. This particular pattern required very little printing and the directions flow seamlessly to create a beautiful and classic dress
Jo D.

United Kingdom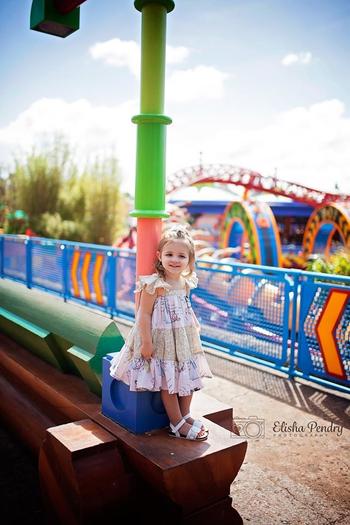 03/24/2020
Favorite dress
I loved this pattern and love the dress on my little one.
Elisha P.

United States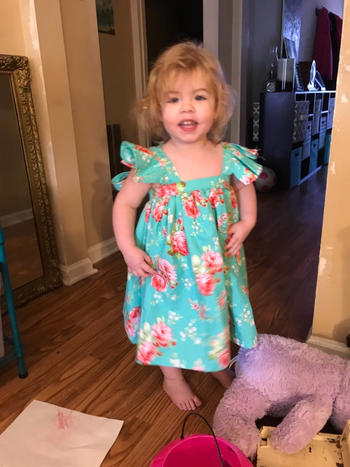 03/04/2020
Such a cute dress!
The pattern was easy to use and sewed up very quickly. I've bought several other patterns too and loved them all.
Hannah M.

United States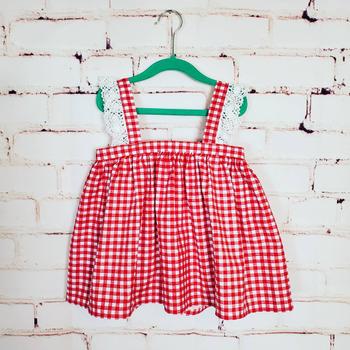 01/06/2020
Ruthie Top & Dress
I absolutely love this pattern and my final product turn out so cute! Printing and instructions were very easy to follow. I am definitely going to be trying out more patterns from you.
Rico

United States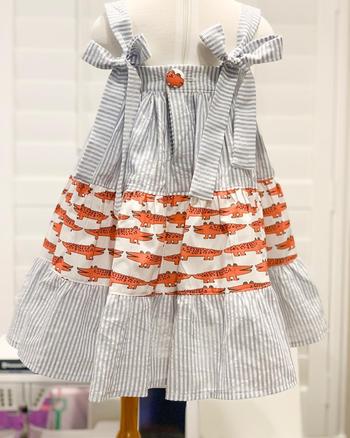 08/27/2019
Love this pattern!
The directions are very easy to follow and the dress and top are both sooooo cute!
sarah b.

United States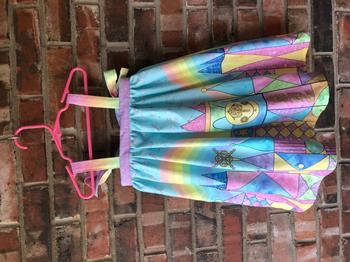 07/17/2019
Adorable and surprisingly fast!
I made the "plain" gathered dress with tie straps version, and I was very pleased with how this pattern came out. If you're using a directional print for the binding there's some mental gymnastics involved in making the print upright in the front, and I definitely had to rehearse the steps used to close the binding/cover the gathers a few times before I got what the instructions were getting at. But overall, this was a pretty straightforward, quick make and I was extremely pleased with the results!
Robin O.

United States
04/17/2022
Lovely pattern
Easy to navigate the website, lovely patterns to choose from and quick delivery via pdf once you have paid and ordered
11/16/2021
Not yet
I m planning to try this beautiful dress next week.
Brian C.

Australia
08/08/2021
Gorgeous pattern
Dress came out beautifully I did an 8 year old length and 5 year old chest for my 7 year old daughter.
Andrea M.

United Kingdom
01/17/2021
Granddaughters loved the tops and dresses
Four granddaughters loved the summery tops and dresses. Made two simple tops of cotton lawn and three dresses, one simple dress and two tiered dresses. I think the older girls loved the tiered dresses the most. First time I have made a tiered dress and am looking to make more.
Sheila Y.

United States
10/01/2020
Allie blouse
I am just about to sew today and reading through the instructions I see that I don't have a necktie. I feel like that should be in the pattern pieces as I don't know how long or wide it needs to be. If someone could email me measurements regarding the necktie that would be wonderful. Other than this little problem, The instructions seem easy enough to follow.
Jennifer H.

Australia
07/27/2020
Beautiful dress
Being extremely new to sewing I was able to successfully complete two of these dresses. Took a little longer for me, but I'm sure once I have more experience it will be much easier. Definitely a good pattern for a beginner.
Cindy D.

United States
07/17/2020
I love this pattern!
It took a bit of time, but I managed to make several tops. My daughter loves her new tops very much.
Brenda T.

United States