Abriella Dress
digital pdf sewing pattern
$11.95
View Sizing Chart
If you have been looking for a pattern for an amazing formal gown, then this is the dress for you!  Talk about dreamy...the Abriella dress is simply stunning and includes tons of options!  The bodice has options for solid fabric or an option for a sheer over or underlay.  It features a zipper closure with a long keyhole on the bodice back. You can also choose between 3 options for your sleeve length - 3/4 sleeve, long sleeve or sleeveless!   
Abriella features 2 options for dress lengths as well!  The jaw-dropping floor length gown
includes choices for a gathered rectangle tulle layered skirt or a cascading hi low tulle skirt with horsehair braid trim. Both floor length skirts feature 3 layers of tulle and a lining layer.  
The knee length options include: special occasion gathered rectangle tulle layered skirt or an everyday woven skirt.
Really, any way you go with this pattern, you are sure to create a show stopper of a dress! 
The Instant Download PDF Includes:
Sizes: 2T-10 years
Size Chart, Fabric Requirements, Fabric Recommendations, Notions, and Sewing Tips
Full tutorial and step-by-step instructions, including over 40 color photos to clarify each step for beginners

Includes (2) Downloadable Files:

US Letter (A4 compatible): Print from home with regular computer paper, tape together, and then cut pattern pieces

A0 Copy Shop (Projector compatible): Send off to print large scale or use with your at home projector
Click here to download the free Abriella Coloring Page!
You might also like
Customer Reviews
Write a Review
Ask a Question
Filter Reviews:
dress
pattern
instructions
version
skirt
daughter
tulle
Christmas
printer
Abriella
06/01/2023
Świetny wykrój
Wykroiłam sukienkę w rozmiarze 5 dla prawie 4 latki o wzroście 116cm. Sukienka jest w sam raz. Złożenie wykroju nie było trudne. Samo szycie, dzięki dokładnej instrukcji, również było proste. Szyłam wersję podstawową, długą, z brokatowego tiulu, podszytego bawełnianą tkaniną.
Agnieszka K.

Poland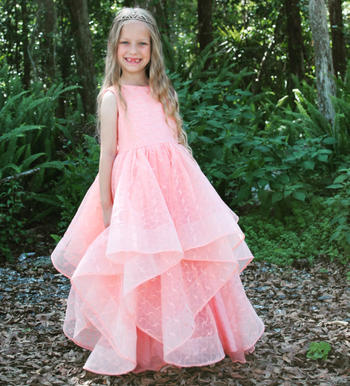 04/17/2022
Abriella
Beautiful dress! Sewed up perfectly. Definitely will make more abriella dresses.
Melissa M.

United States
12/23/2021
Wonderfull dress
Absolutly love this dress ! Manual is realy elaborate... I dont understand it... But I got it by my self and christmas gift for my daughter is amazing ! Thanks for pattern.
Veronika S.

Czech Republic
11/14/2021
Fit for a princess!
This dress pattern is fit for a princess! I loved making the short version of Abriella for my granddaughter for Christmas. I really like that this style has so many options, and because of that, I will probably make it again. It's a keeper.
Anne D.

United States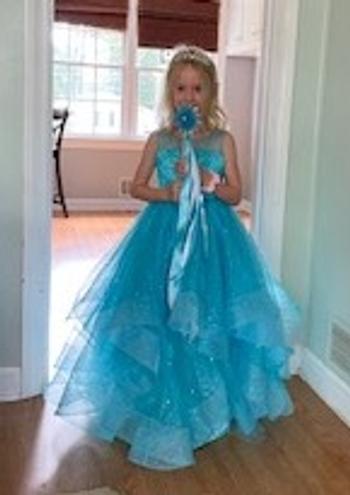 07/23/2021
Love the end result, but it was challenging!
As mentioned in some of the other reviews, this pattern -- at least if you are making the high-low skirt and using layers of tulle -- is pretty challenging, even as someone who has been sewing for many years. At several points, I really couldn't understand what I was supposed to do from the instructions, and just figured out what I thought would work. Fortunately, I didn't mess anything up badly! It would be great to have a video tutorial for this one. Positives are definitely the "wow factor," twirl, and very nice fit I got for my slender model by grading down from size 6 at the shoulders/chest to size 3 at the waist, using the VFT pattern markings that matched her measurements for chest and waist. And the sense of accomplishment from successfully completing it. I may use a simpler variation of the pattern for a Christmas dress, but am not sure I will tackle the high-low, multilayered version again.
Linda W.

United States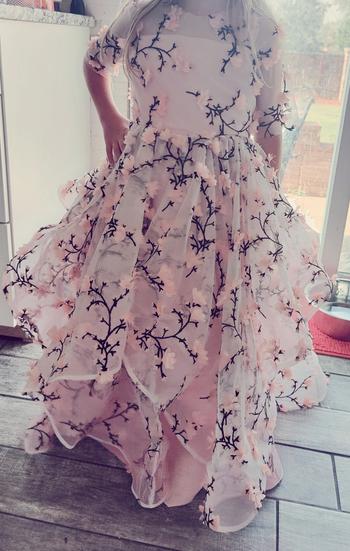 07/20/2021
Nice dress but poor pattern
I am so thankful I read other reviews so I knew going into this the pattern would be confusing. However, they did not do justice to how confusing. Either it needs more pictures or more descriptive steps. If I didn't know so much about sewing, I could never have finished it. Read, read, read again. I had to get out a dress to compare to understand it. The bodice was also hard as I did an overlay but it seems to be lacking in directions for full overlay with half liner he actual drafting was done well. The pieces went together we'll. I didn't like I put it all together before realizing I didn't need to us all the paper as I didn't need the regular skirt/long skirt. All in all the dress comes out great and is beautiful. Make sure you can sew very well or have a support group for help. Other patterns from this maker are great so not sure on this. Just be prepared and read it through more than once
Amanda E.

United States
07/13/2021
Great intro to special occasion sewing
This was my first special occasion sewing project. Very clear outlines on how to cut and sew tulle/mesh/embellished fabrics and install zippers. Lots of versatility in the design as well! Will be making more variations of it for years to come.
Amber C.

United States
06/02/2021
Красота!
Очень красивое платье! Сшила его за 5 дней. Не было времени переводить ярды в сантиметры, расход ткани замеряла сама по выкройке. Сложно было справиться с регилином, до этого я работала с ним один раз. Не сразу он расположился так,как надо. Рукава и лиф в моем платье из сетки со стразами, горловину и вырез на спинке пришлось обрабатывать вручную. Когда будет времени больше,разберусь с размерами и однозначно буду шить ещё. Спасибо за выкройку!
Татьяна

Russia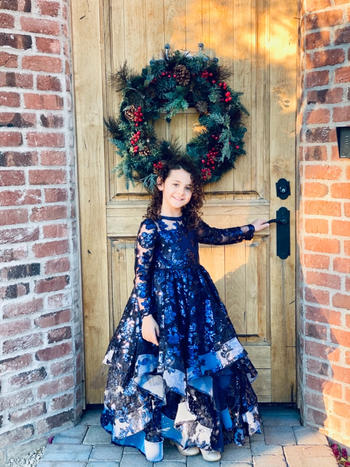 12/26/2020
Beautiful but difficult
I'm not a novice sewer, but this was a tough dress. Although it turned out beautiful! I'd love if the directions for the hi lo version had more pictures and description, but with help from Facebook I figured it out.
Kandace G.

United States
07/03/2023
tough directions
rough time following the directions for binding and neck area.... i gave up...
maria r.

United States
02/11/2023
Stunning pattern
Absolute perfection, loved the pattern, instructions easy enough to follow. Definitely using again, thank you!
Sarah H.

Australia
10/16/2022
Pattern purchase
Lovely site, easy to navigate and purchase. Link sent through and then just download.
Karen M.

United Kingdom
09/10/2022
I haven't used it yet but can't wait
Diane L.

United Kingdom
09/06/2022
Abriella dress
Not made it yet but when I seen it ade up just had to have it now waiting for a special occasion to make it , but its stunning gorgeous and beautiful
Julie H.

United Kingdom
06/19/2022
The gorgeous over-the-top dress I was going for!
I love how the dress turned out! It took quite a while to create the dress, but that was to be expected with all of the French seams and loads of tool. The end result was great. There were a few instructions that were a little unclear though, and I had to rely on what I thought I should do based on experience.
Crystal W.

United States
05/10/2022
Love the dress but can't get the pattern to print correctly
My printer is having problems and will not print the pattern correctly is there any way I can redownload it on my phone so that I can take it to the print shop and have it printed there
Ashley R.

United States
03/24/2022
Beautiful Design
Beautiful design with thorough instructions.
Jackie A.

United States
10/20/2021
Abriella
Abriella is a beautiful gown. I sewed a version with ivory chantilly lace bodice and long skirt and sleeves, with ivory underlay and lining. I did not use tulle, since I was creating a "Childlike Empress" look forward my granddaughter. I completed the look with a sheer ivory mesh high-low poncho. It is quite lovely and my daughter in law and granddaughter were thrilled. I found the directions to be pretty clear, but it would have been helpful to have the accompanying photographs of a lighter color fabric, since it was somewhat difficult to use the illustrations for clarity.
Mary B.

United States
10/10/2021
NOT HAPPY
I NEVER RECEIVED THE PATTERN
Melissa A.

United States
04/06/2021
Ombre Abriella
The pattern was fairly simple. I had issues with my printer in the beginning but got it sorted out. My daughter LOVED the dress. She won't take it off and I'm okay with that. It is a beautiful pattern and I plan to make more. Just not sure where my daughter will be wearing them to yet but her closet will probably be full of this pattern! The only thing I had an issue with was with the horsehair braid. I wouldn't call it too big of an issue. I could have sworn the pattern said 3 yards of horsehair. I needed 15 yards worth of horsehair. That is how long the hem of the high low skirt ended up being. I was definitely okay with the amount needed. Because I love the skirt and it is why I bought this particular pattern. Just had to make multiple trips to my local fabric shop thinking I had enough.
Miayah R.

United States