Bubble Romper Add-on
digital pdf sewing pattern
$9.95
View Sizing Chart
The bubble romper add-on package will allow you to customize your favorite designs for a whole new look!  Bubble Romper Add-On includes several options, including:
*simple bubble romper
*peplum skirt
*full skirt
*bum ruffles
*leg ruffles
The bubble romper add-on will fit on a variety of our patterns, including (but not limited to): Alice, Georgia, Ginger, Emmaline, Nora, Elodie, Pepper, Kate, Lauren, Charlie.  Using the romper bottom will help to create all new looks and stretch your current pattern collection.
NOTE: This pattern only contains only the romper bottom, romper skirt and romper ruffles, garment patterns are not included.
The Instant Download PDF Includes:
0-3, 3-6, 6-12, 12-18, 18-24 mos. & 2T-4T
Size Chart, Fabric Requirements, Fabric Recommendations, Notions, and Sewing Tips
Full tutorial and step-by-step instructions, including over 40 color photos to clarify each step for beginners
Includes (2) Downloadable Files:

US Letter (A4 compatible): Print from home with regular computer paper, tape together, and then cut pattern pieces

A0 Copy Shop (Projector compatible): Send off to print large scale or use with your at home projector
You might also like
Customer Reviews
Write a Review
Ask a Question
Filter Reviews:
pattern
tops
size 3t
guys
Alice
difficulty
Add-on
romper
sewer
grandaughter
06/22/2021
Adorable!
I have made the romper with two different tops and love them both!
Marquardt, C.

United States
04/13/2021
Adorable romper, lots of versatility
Very easy to follow, although the 70+ page count was a little intimidating at first. My 5th VFT pattern so far. I'm excited to try more variations with it!
Amber C.

United States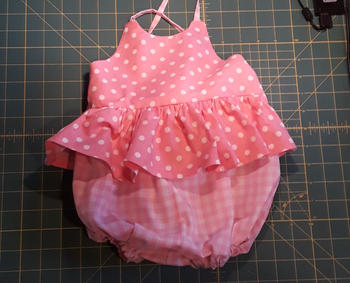 05/23/2020
Great pattern and clear instructions
This is the second Violet Field Threads pattern that I've used. The pattern design is high quality and the instructions are very clear.
carol p.

United States
04/02/2020
Perfect add-on
I thought it would be tricky and confusing using this add-on pattern, but like all VFT patterns I've used, it had excellent directions. I sew almost exclusively with VFT because, no matter the difficulty, they make it easy.
mary b.

United States
03/28/2020
So sweet!
I LOVE the finished product! As a relatively new sewer he owe we the explaination and photos surrounding the leg hole elastics with leg flutters were confusing at best. I'm still not sure I did them correctly although they look okay. I'd love to see a VFT video surrounding this, it seems like it SHOULD be straightforward but I just could not figure it out
Sara H.

United States
03/15/2020
Wonderful romper
This was such a great sew. Easy to follow and understand.
Stephanie E.

United States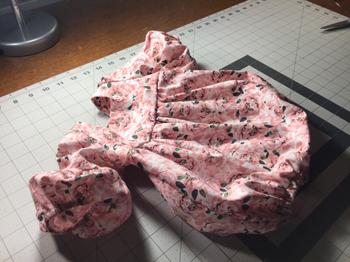 01/14/2020
Bubble romper add on
easy to make an so cute. Starting my 3rd one.
Lisa H.

United States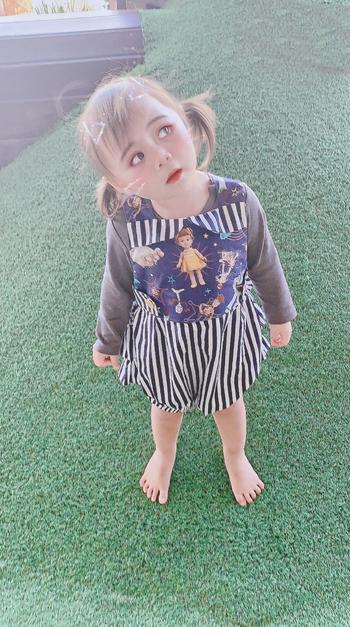 07/20/2019
Good
I only just started sewing for 1 year and as a beginner it is pretty good as instruction. I have been waiting for this for so long. Thanks guys.
Donna B.

Australia
07/17/2022
Very nice but difficult to understand in some cases
There was a problem with one part of the pattern. It wasn't clear which pieces completed that particular piece of the pattern. I had to figure it out on my own and purchase more fabric but in the end it turned out super cute.
10/29/2021
Exactly what I needed
A little confusing but perfect when I sorted it out.
Jackie F.

United States
02/20/2021
I Didn't Know I Needed This Add-On
I am not a huge fan of bubble rompers and rompers in general but I decided to get the add-on to try it out and combined it with June. This pattern was way easier than I expected AND I loved the outcome! Another successful purchase!
Tiffany K.

United States
02/11/2021
Bubble romper add on
Will use in near future...but so glad to have pattern...will see lots of use
Dona C.

United States
08/23/2020
Bubble add on
Enjoyed the pattern. Looked great on my granddaughter
mary d.

United States
07/14/2019
Love love love this add on!!!
This is a PERFECT add-on for my little 14 month old grandaughter! We love rompers!!! I love Violette Field Thread patterns and I am SO glad I found you!!!
Jane S.

United States
07/12/2019
Bubble romper
Great, I'm new to sewing.....easy to use
Terry R.

United States
07/12/2019
Bubble Romper Add-On
I loved it! I can't wait to make more!
Charlotte H.

United States
07/11/2019
So cute!
I made the size 3t with an Alice bodice and it is precious! Many more planned!
Rebecca M.

United States
07/05/2019
So cute!
This pattern is great! There are lots of wonderful options to choose from. It's a bit tricky to get it all worked out. Lots of options and lots of patterns to add it to, but very organized and definitely doable. Thanks for the cutest bubbles ever!
Michelle R.

United States
07/01/2019
Bubble Romper Add-on
Excellent. As always, easy instructions.
Julie-Ann S.

Australia
06/30/2019
bubble romper add on
I loved the pattern and my granddaughter looked so cute inn it.
Jean S.

United States