Cairo Dress
digital pdf sewing pattern
$9.95
View Sizing Chart
Cairo is a gorgeous dress that features two versions:
Special Occasion Version:  The Special Occasion Cairo is absolutely spectacular!  The special occasion version is floor length with two full layers of soft chiffon that seem to float overtop a layer of tulle. A full lining provides comfort during wear.  We include construction techniques that will teach you to pleat the tulle and assemble the dress so that anyone can complete this show stopping look!  The empire bodice is fully lined and the back features wide criss cross ties and finish in a bow.  Cairo if finished with back elastic for ease of fit. Special Occasion Cairo is ideal for photoshoots, weddings, special events or a special princess dress!
Everyday Version: Everyday Cairo is quick and still breathtakingly beautiful!  The everyday version can be sewn in Maxi or Knee lengths. The bodice remains the same, but the skirt is a comprised of a top layer and lining that can be sewn in a variety of fabrics including voile, cotton and cotton blends.
The Instant Download PDF Includes:
Sizes: 2T-10 years
Size Chart, Fabric Requirements, Fabric Recommendations, Notions, and Sewing Tips
Full tutorial and step-by-step instructions, including over 40 color photos to clarify each step for beginners 

Includes (2) Downloadable Files:

US Letter (A4 compatible): Print from home with regular computer paper, tape together, and then cut pattern pieces

A0 Copy Shop (Projector compatible): Send off to print large scale or use with your at home projector
Click here to download the free Cairo Coloring Page.
You might also like
Customer Reviews
Write a Review
Ask a Question
Filter Reviews:
pattern
directions
dress
skirt
purchase
version
waistband
occasions
chance
problems
09/06/2020
Cairo Dress
First time sewing a dress this full, my customer wanted tulle and chiffons only. It was a challenge. Directions well written and pictures were a bonus. Loved the tips.
Julie M.

United States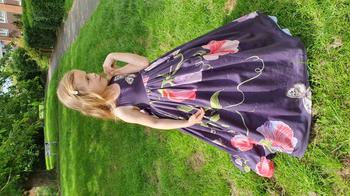 06/24/2019
Beautiful Simplicity
The pattern was easy to prepare using the instructions. Some large rectangles of fabric need to be cut for this dress. It is actually very easy to put together but results in a show stopping dress (special occasion version). The only thing I query is the elastic measurement? It seemed far too big and didn't create any tension in the back at all- I ended up reducing by about two inches but feel it probably could be reduced further.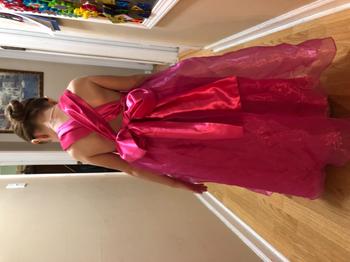 02/25/2019
Easy to sew and makes amateurs look like pros!
This was super easy. I say that with a small caveat. I did use a skirt from a prom dress, so my experience hasn't yet included the tulle portion of the instructions. That aside, it was worth the purchase.
07/02/2018
Anyone can sew!
Incredible pattern! The thorough step-by-step instructions are priceless. I am a very new sewer. I was able to create a beautiful gown for my daughter!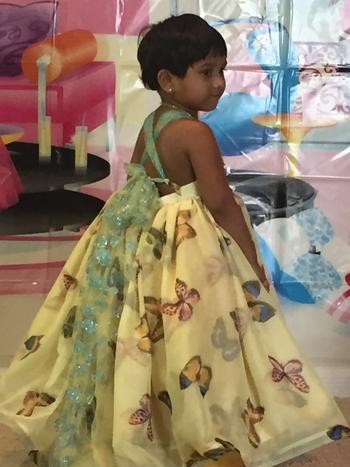 06/03/2018
Very nice and pretty dress to make
The Cairo was the first pattern that I bought from VFT, after which I never stopped buying patterns from them. Each pattern has a unique and new sewing technique to learn from. I learnt the art of handling tulle and also about giving volume to the dress from Cairo pattern. Already bought a few more and completed those as well. I am getting good compliments from all, in the recent past. Thank u VFT.
06/01/2018
Perfect special occasion dress
This was an amazing dress. I am a novice seamstress and it was wonderful learning new techniques and have a beautiful dress for my daughter to have her pictures in.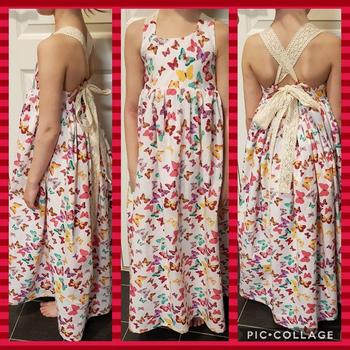 05/02/2018
Awesome!
I made this dress for the 7th birthday of my daughter, we both absolutely loved the results, i even got questions if i could make it in adult sizes. Thank you for the good and clear instructions.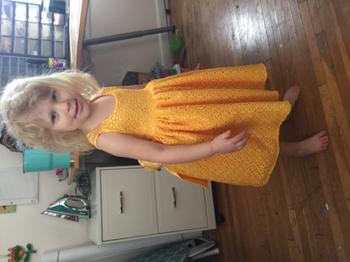 05/01/2018
I couldn't figure out the
I couldn't figure out the waistband so I kind of did my own thing there. The pictures weren't super clear on the step where you attach the waistband onto the bodice
05/31/2022
Flower girl dresses
I love the pattern and our flower girls are super excited. Pattern was relatively easy to work with. A few things were a bit tricky to decipher as per instructions such as the side seam finish for skirt and the manner and direction of folding of the shoulder ribbon straps and attaching to the front bodice. I also wish the ribbon straps were longer. Once tied in a bow, the tails of the bow seem a lot shorter than the pictures. The last thing that was a bit of a frustration is that I did not realize there were three size options of patterns to order. I automatically got the middle size pattern and needed to create my own larger sizes based on what I had. It was not very clear that I could have ordered a bigger pattern. Just saying. I'm still working on the dresses so I do not know how they will work out for the girls. It is a beautiful dress and the finished ones I have are gorgeous.
09/14/2021
Cairo gown
Love all your patterns. Easy to read patterns
Tracie L.

Australia
09/09/2021
Beautiful dress
Haven't made it yet but it is amazing!!
Rachel W.

United States
07/22/2021
Beautiful pattern
Excellent directions; various options;elegant for special occasions
Grace V.

United States
07/07/2021
Cairo
I have wanted this pattern for ever so long. When it went on sale recently, I jumped at the chance to purchase it. I have not had the opportunity to use it as of yet, but excited for when I do! Love all your patterns!
SHARON C.

United States
09/20/2020
Cairo Dress
First pattern that I have not been able to figure out. The instructions for constructing the waist band did not make sense to me, nor did attching the waist band to the bodice. Still trying after 3 weeks to figure it out, looks like a total loss on material, as summer is over. Beautiful dress, so sad.
Bonnie

United States
08/03/2020
Cairo Dress pattern
Love using this pattern! Very clear and easy for even a beginner like me :)
Rosalind K.

Australia
07/31/2020
Simple Elegance
All little girls want to be a princess and this dress allows them to be just that. I made the everyday version and the directions were precise and easy to follow.
Sandy L.

United States
03/09/2020
Cairo Dress
I sewed an everyday version using a cotton sateen fabric and my little girl loves it! I will sew a special occasion version soon and I hope I can do it right. (fingers crossed!) Beautiful pattern!
Noemi T.

Philippines
10/28/2019
Cairo Waistband Issue
This was my first purchase of a downloadable pattern. I found it quite easy except for the waistband. I researched your blog and found the solution however, I feel it is important to update the pattern with a better photo for the waistband. It took many hours to find the solution for many customers as well as myself. The dress turned out beautiful and I will definitely buy from VFT again.
Wanda N.

United States