Daisy Tween Shorts
digital pdf sewing pattern
$6.95
View Sizing Chart
Daisy is the perfect summer short for tweens! The adorable front pockets and fun side scoop add fun detail, or keep it simple and sew up a quick pair without pockets!
The full elastic waistband provides for a comfy and easy fit.  Daisy is such a quick sew, it will be your go to short in no time!
The Instant Download PDF Includes:
Sizes: 10, 12, 14 and 16 Tween
Size Chart, Fabric Requirements, Fabric Recommendations, Notions, and Sewing Tips
Full tutorial and step-by-step instructions, including over 40 color photos to clarify each step for beginners

Includes (2) Downloadable Files:

US Letter (A4 compatible): Print from home with regular computer paper, tape together, and then cut pattern pieces

A0 Copy Shop (Projector compatible): Send off to print large scale or use with your at home projector

Click here to download the free Daisy Coloring Page.
You might also like
Customer Reviews
Write a Review
Ask a Question
Filter Reviews:
pattern
instructions
shorts
pairs
beachy
ones
plan
sizing
room
flannel
12/14/2020
Super easy and fast
The pattern is super easy to put together, with clear instructions. this model is sewn super fast.
Idania G.

United States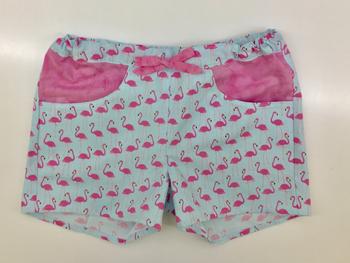 10/01/2018
Great patter and easy to sew
Great! I made the hem level all the way round and it worked well.
RP
Rhonda P.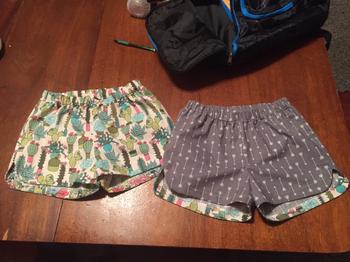 09/04/2018
I have made several of these for my daughter.
This pattern is so nicely done. I love the yolk along the bottom and it is such an great way to add some fun material. My daughter is usually really picky but these fit her so nice. She wears them often.
07/26/2022
Shorts easy to make, snd put a big smile on her face
My grand-daughter loves her bew shorts! She is so enthusiastic I've made up three more pars. On the last pair, my grand-daughter (10 years)) was the chief seamstress.
01/28/2021
Easy to do and so many options
Instructions are detailed, it's really easy to follow - we've already sewn different styles and they fit really well.
maria c.

Brazil
10/15/2020
Daisy Tween Shorts
Great pattern, my 9 year old loves them. Easy to follow instructions and quick to sew up. She has 3 pairs already!
Hilary N.

Australia
10/14/2020
Cute shorts
This is a great pattern. My 10year old with a little help from me was able to see her first pair of shorts using this pattern.
Beth W.

Australia
08/21/2020
Daisy Tween Shorts
Pattern was easy to download. Instructions are very clear. Plan on making quite a few of these
Margrit M.

Australia
06/21/2020
Daisy tween shorts
First pair I made were OK. Second pair were much better. Pattern was easy to use. Have bought 2 others but not made yet.
Kathy L.

United Kingdom
06/04/2020
Daisy Tween Shorts
Such a lovely pattern. Quick and easy to make With such informative instructions. Struggled a little getting the tapering right on the side but that was all. Looking forward to my next make.
Nicola L.

United Kingdom
05/10/2019
great pair of shorts
These shorts are so versatile.I have made several pairs and even made some out of soft flannel for my girls sleep shorts. They are so great.
03/28/2019
Daisy Shorts
Pattern measurements matched the measurements of child and the shorts were a perfect fit. Pattern was easy to assemble and instructions were great!
01/27/2019
Daisy Tween Shorts
I had no problems following this pattern, great instructions and love the clear pics, made size 10 for granddaughter, might go up a size for the next ones, she is a 10 in bought shorts but these leave no room for growing in the next few months. She loved them and helped me tape pattern together and picked her fabric ( we used a fugly beachy print that she was happy with and that I was glad to use up from stash for first pair to work out sizing) she loved reading out to me from pattern as we sewed along and I got her to do some pinning of pieces so she could join in. Love this pattern will be making a couple more pairs for her with some pretty fabrics
10/02/2018
Easy for beginners
I found this to be such an easy sew. Will definitely make it over and over.
08/02/2018
Easy to follow and cute results
Easy to follow pattern. I love how they turned out. Thanks again for another great pattern.