Elianna Dress
digital pdf sewing pattern
$9.95
View Sizing Chart
The Elianna dress is a wrap dress that is sure to stun. The ties wrap perfectly to flatter the waistline and tie in a sweet bow on the side. Elianna can feature a full neck flounce that graces the front neckline and wraps all the way around to the back with a sweet upper back tie.
An effortless, elegant high-low maxi skirt with beautiful, soft flowing skirt flounces, hitting just at the knee in the front and maxi length in the back is included.
Elianna can also be made with a plain skirt with no skirt flounces and a plain bodice with no bodice flounces. This creates a more casual look and quicker sew!
The Instant Download PDF Includes:
Sizes: 2-10 years
Size Chart, Fabric Requirements, Fabric Recommendations, Notions, and Sewing Tips
Full tutorial and step-by-step instructions, including over 40 color photos to clarify each step for beginners

Includes (2) Downloadable Files:

US Letter (A4 compatible): Print from home with regular computer paper, tape together, and then cut pattern pieces

A0 Copy Shop (Projector compatible): Send off to print large scale or use with your at home projector

Click here to download the free Elianna Coloring Page.
You might also like
Customer Reviews
Write a Review
Ask a Question
Filter Reviews:
résultat
favoris
explications
tout
versions
patron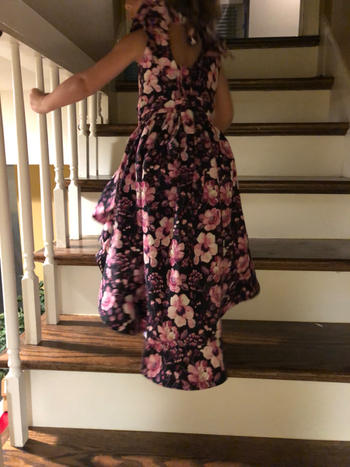 02/19/2020
Very happy with this purchase!
This is a stunning dress! This was my first experience with Violet Field patterns, and I am very pleased. This dress in particular looks much harder than it is. I loved the detailed instructions and the pictures.
Claudia B.

United States
08/13/2019
Elianna
Superbe !!! Explications très claires, plusieurs versions bref certainement un patron qui sera dans mes favoris
ludivine h.

France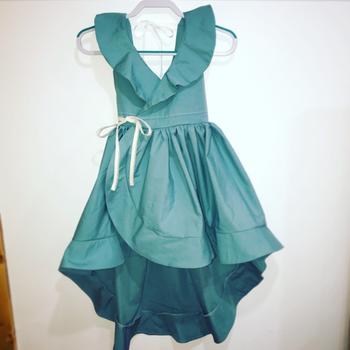 04/13/2019
Beautiful
Requires a lot of fabric but is absolutely stunning!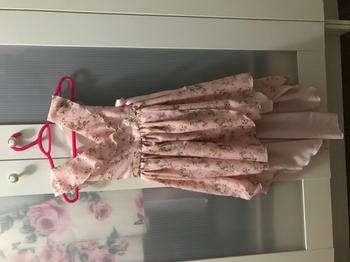 08/02/2018
excellent dress!!!
My experience was great!but it was too many pages to print/glue.I would buy more patterns if they would've have an option to seperatly print different group ages.and flounce too.to print just dress or to peint add ons.not everything under one file....
06/02/2018
Très jolie
Mis à part la conversion des quantités de tissus, pas de difficulté particulière, les photos suffisent à comprendre les étapes si on ne comprend pas l anglais.
08/17/2022
Elianna Dress
Great experience, as always, with VFT patterns. I used good-quality quilting cotton, as it was on-hand. Next time I will do a more "floaty" version, but result was still very cute. I know it will be a happy dress for a birthday girl.
06/29/2021
I would like a paper copy
I am so very disappointed. I have purchased one of your patterns before, a paper copy, and loved it. I have purchased 3 patterns and cannot use them as they are PDF. to print my 3 would be $45 canadian (+ the cost of the pattern) . I love your patterns, but that is just too much money. Barbara
Barbara S.

Canada
08/14/2020
J'adore! Tout est ultra bien expliqué et le résultat est juste WAHOU!
Jennifer S.

France
02/26/2020
Download
I wanted to send it to my husband as he's a signwriter for him to print it out on his large machine, but the file is too big. I don't want to print it out on my printer as it takes way too many sheets of paper, with ink included, it's not a cheap choice. Any help appreciated
Diane L.

United Kingdom
09/04/2018
Penelope
The dress turned out beautifully! I considered myself an advanced beginner but after finishing this dress I'm not so sure. It was quite difficult for me. Maybe I'm actually just a beginner! I do have to say that the instructions were not as detailed as other VFT's patterns, even with the youtube videos. I think what got me was when I went to sew I would sew the lining as well as the bodice when I wasn't suppose to or vice versa (as this wasn't clear in the directions). And the PLACKET! Dear Lord! This really got me! The directions were to "sew to the dress." Not specifically to the folded down pieces ONLY. After many tries I got it and mistakes make learning fun, right. Again, the dress turned out beautiful!
08/02/2018
ANOTHER FABULOUS PATTERN
I love the way you write your patterns, they're so easy to follow
07/02/2018
Fantastic look but painful printing
I have just finished the dress, with all the flounce options, and it's stunning. The making is more or less the same difficulty as usual with Violette Fields Thread patterns. Only it's a bit longer given all the flounces. The only downside, to me, is the printing/cutting. I realised only afterwards that restricting indications were given at some point (so that you don't print the useless sheets with regards to the size-group you intend to cut). So I printed everything. And when it comes to cutting, you have no choice but to cut around the dotted lines to assemble the sheet before you cut your size (while I usually cut directly along the lines of the size I want). Here, too many pages do not feature the numbers related to sizes. You have to wait until you have assembled a whole jigsaw-puzzle line before you can actually recognize your line and cut along. So in the end, you waste an awful lot of time and run the risk of giving up the project. It might be something VFT may want to alter. But otherwise, once you're over cursing the sheets that pile up and your own incapacity to find shortcuts through the cutting, you end up ever so satisfied with the result!
CB
charlotte b.
07/02/2018
Awesome Pattern!
While Jane is my all time favorite this is my new favorite! This pattern is easy to assemble, beautiful put together and has a great fit! Highly recommended!
07/02/2018
Love this dress!!!!
The pattern was easy to follow and the dress fit beautifully. I made it for my 4 year old grand daughter and she loves it