Primrose Dress
digital pdf sewing pattern
$9.95
View Sizing Chart
Primrose is an absolutely DARLING babydoll inspired dress that can be sewn with special occasion fabrics or in everyday wear wovens as well!! The dress is knee-length with loads of options for sleeve styles - including our brand new design for a cap/flounce sleeve!  The bodice can be done as a flat front or with precious pintucks, and the skirt has options for a plain skirt or with the tiered version that is sure to have your girl twirling the day away! 
The Instant Download PDF Includes:
Sizes: 2T-10 years
Size Chart, Fabric Requirements, Fabric Recommendations, Notions, and Sewing Tips
Full tutorial and step-by-step instructions, including over 40 color photos to clarify each step for beginners
Includes (2) Downloadable Files:

US Letter (A4 compatible): Print from home with regular computer paper, tape together, and then cut pattern pieces
A0 Copy Shop (Projector compatible): Send off to print large scale or use with your at home projector
Click here to download the free Primrose Coloring Page.
You might also like
Customer Reviews
Write a Review
Ask a Question
Filter Reviews:
pattern
dress
granddaughter
directions
Primrose
beginners
waist seams
things
tulle
Outcome
11/10/2021
Elegant Primrose
The most beautifull dress ever, the pattern not so easy to follow for beginers.
Magdalena M.

Poland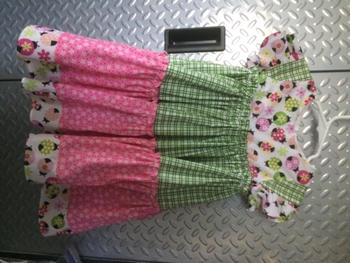 12/17/2020
So Pretty
I love this pattern. The directions are easy to follow and the dress I made turned out really cute.
Petersen

United States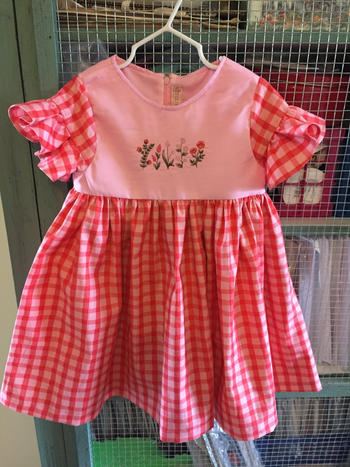 04/18/2020
Fancy and cute!
I enjoyed sewing up the Primrose. I made the woven skirt design and gathered inside. Love the short flirty sleeves!
Nancy G.

United States
04/17/2020
Primrose
Followed along with the sew a long for this pattern and I love how it turned out!! Love these patterns and the simplicity of the directions for beginners like myself!
Ellen F.

United States
05/29/2022
Simple but beautiful flower girl dresses
Lovely pattern and easy to use for an experienced dress-maker.
01/02/2022
Primrose
This is a lovely dress. I'm planning on making it for my granddaughter as a flower girl dress, but it will be for next September. I haven't started yet.
Marcia V.

United States
12/08/2021
Confusing instruction but happy with outcome
Had a terrible time trying to print it and cost me a lot more money to finally do so. Being a sewer for 50+ yrs, actually found some instructions confusing and it didn't seem to follow a logical order. Happy with finished product but markings for important points would have helped. Assumed no prior and/or background knowledge.
Heather W.

Australia
05/28/2020
Perfect dress
I purchased Primrose Dress tutorial and already made 2 dresses for my granddaughters.Everything is explained very carefully. Dresses are amazing.Thank you
Kirill Z.

United States
04/27/2020
More complicated VFT pattern
I love VFT and I bought this one to do during their sew along. It made for nice special occasion dress. That being said, it was one of the more complicated/time consuming dresses I have made from VFT patterns. I would not recommend it for a beginner.
Jacqueline M.

United States
04/20/2020
Beautiful
I've made 2 of the simple woven versions with concealed waist seams and love them. I sized up so they should cover us for 2 summers but still look great now.
Abi R.

United Kingdom
04/15/2020
Maybe it's my printer
but some pieces don't seem to line up as well as I'd like. So far I've been able to put things together but it would be much easier if you had printed on each piece the name of the piece and the name of the pattern, eg. Flutter sleeve, 1 of 2, Oaklyn. Actually what would be perfect would be to have the option to have patterns printed at a printing shop and have full size pattern pieces. I get other patterns that offer you the option and it's much better for me to get the printing shop to do it - and fairly cheap. All that being said, I love the patterns, and I love seeing all the finished garments. I am now the queen of plackets and KAM snaps - thank you for that!
Stephanie R.

Canada
01/09/2020
Primrose is my next project
Each pattern I have purchased has been a joy. So many options keep them fresh each time. I have not yet made the Primrose. Going to have a weekend sew fest in my sewing room to make a few for my goddaughters. Thank you
Tracey T.

United States
12/29/2019
Patterns
Your patterns are easy to follow, and have a beautiful outcome
Alison T.

United States
12/16/2019
Girls dress patterns
The number of stars is equal to the number of patterns out of the total number I purchased that I was able to print. Your patterns are so cute, but I have had so much trouble printing them I've come close to shooting my computer. Some print perfectly, some not at all after several hours trying. Also, I would prefer less color in the instructions. When patterns do print, they use a lot (lot) of ink.
Debrah S.

United States
12/15/2019
Vídeo tutorial
Mis conocimientos de costura son pocos, sería muy recomendable acompañarlo de un vídeo tutorial. Así seria mucho más fácil como otros que ya tenéis. El patrón me encanta pero no me atrevo a coserlo porque no tengo muy claras las explicaciones. Muchas gracias
Mariola m.

Spain
12/11/2019
Lovely dress
The pattern was well written and easy to follow. My first time working with tulle, and while I didn't love making it, the end result is worth it. My granddaughter loves it.
Elizabeth W.

United States