Sale
Rosemary & Matilda Girls Bundle
digital pdf sewing pattern
$19.90
$17.90
View Sizing Chart
Bundle Rosemary and Matilda and save!  Rosemary and Matilda pair perfectly together.
Matilda is perfect for layering or wearing alone. There are three sleeve options: flutter, short cap, and 3/4 length. All create such a different look, and all are so easy! This adorable peasant style dress uses a clever way to finish an inside encased elastic waistband so not only is it nicely fitted on your little one, but comfortable, too!
Rosemary is a vintage inspired pin-tucked Pinafore and Slip set.  This beauty is all about the details!  With a fold-over collar, pin-tucked bodice, sweet side ties and horizontal pleats in the skirt, the Rosemary Pinafore is sure to make a statement whenever worn! Two lengths are included (Long/Vintage). The Rosemary also includes an optional quick and easy slip pattern that can be worn underneath.
The Instant Download PDF Includes:
Sizes: 2T-10 years
Size Chart, Fabric Requirements, Fabric Recommendations, Notions, and Sewing Tips
Full tutorial and step-by-step instructions, including over 40 color photos to clarify each step for beginners
Printable, computer drawn pattern pieces with no scaling needed, just print on regular computer paper and cut pattern pieces
You might also like
Customer Reviews
Write a Review
Ask a Question
Filter Reviews:
pattern
dress
pinafore
instructions
photos
baby size
combination
Alice in Wonderland
another
step
11/10/2020
Just love this!
This was the first pattern I bought from you. It is a beautiful combination.
Lene F.

Norway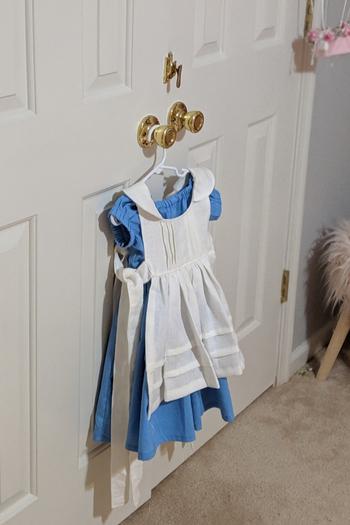 10/15/2019
Beautfiul
This pattern bundle is wonderful. The dress is simple to make and creates a very pretty silhouette and princess flare. Can think of so many ways to vary it for use. Love the pinafore, it is so detailed and classic. Such a sweet vintage look. Used to make an Alice in Wonderland costume but plan to make other dresses for sure. Love all VF dress patterns!
Susan S.

United States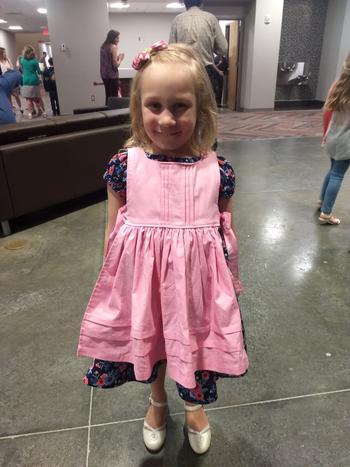 05/04/2019
Love these patterns!
The Rosemary and Matilda go together like peanut butter and jelly! Such an easy and fun sew. I will making another for my daughter and purchasing the baby size for the little one on the way!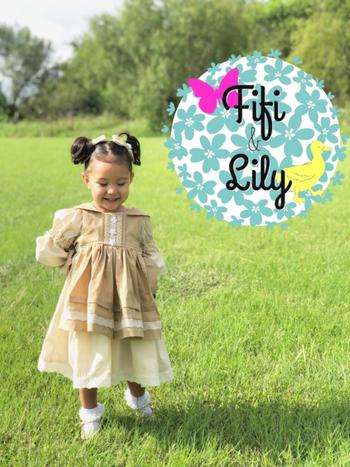 10/03/2018
Adorable pairing
I'm so happy with my purchase. This made the perfect combo for my daughter's dedication this eeekend!
ST
Stephanie T.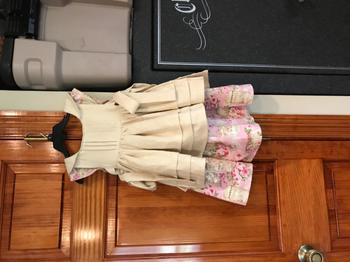 06/02/2018
Great pattern
Made for my granddaughter and she looked so cute in it
04/18/2022
Simple, Easy, Beautiful
Not only were the patterns easy to follow, they were incredibly detailed! And I love that I could print them at home.
12/13/2020
Rosemary and Mathilda bundle
i haven't really started although I took a good long look. It was so complicated as it was downloaded and then run off. Many of the pieces were not identified as to what pieces they were and especially other halves of pieces. I am not an experienced seamstress, and haven't sewn for a number of years, but am very skilled in other craft areas. I knew that i could learn to sew well for my granddaughters and decided that this would be a good comeback. I'm going to have to spend a lot of time trying to figure this out and see if I can make sense out of it. It is a beautiful looking dress and pinafore and I was looking forward to making it. Well see what happens in the New year.
Rosemary B.

Canada
10/02/2020
Rosemary and Matilda
A beautiful combination, sizing was good and instructions were clear. I am delighted with how they turned out.
Patricia M.

United Kingdom
09/12/2020
Just lovely!
I loved everything. This was my first dress to sew and I felt like a pro thanks to your very good step by step directions. I have already bought more patterns.
Lene W.

Norway
09/11/2020
Beautiful pattern
I'm not just talking about the dress and pinafore itself, the pattern is beautiful. Easy to follow instructions, photos of every step, the printed pattern actually lines up in the right spots (hallelujah). Honestly a real treasure.
Brianna W.

United States
08/25/2020
Answer
Its little hard for me because its not translate in France so i have to do meself
Tania S.

France
02/19/2020
Rosemary & Matilda Baby Bundle
I loved making these dresses.
Yvonne L.

United States
02/15/2020
Matilda
It's a simple peasant dress but the measurements and proportions are perfect.
Jeanette G.

United States
02/09/2020
Beautiful bundle
I've only read the pattern and can't wait to make it for my two grand nieces.
Luisa B.

Australia
10/15/2019
Perfect
Very well written
Debbie G.

United States
10/09/2019
Bundles are the best
I love vft patterns and I love the bundles. I wish they did more bundles.
Elisa B.

United States
09/13/2019
The most beautiful patterns
Beautiful patterns, easy to use Wish for even more adult patterns
monica a.

Norway
04/09/2019
Beginner friendly
This was my first time sewing a dress. The pattern and instructions were easy to follow.
03/01/2019
also fast and wonderful
i purchase again and again bc the prices are reasonable, the patterns are available quickly, the newsletter is helpful. all around a great experience every time.
02/02/2019
Excellent pattern!
I love this pattern, and the tutorial that goes along is excellent. The step-by-step photos are very helpful, I've already made three dresses and a pinafore, and I know I'll be using both patterns very often in the future.