Sale
Vivienne Blouse & Skirt
digital pdf sewing pattern
$9.95
$4.98
View Sizing Chart
Vivienne is a classy, sophisticated skirt and blouse set. Peeking from under the front folds of the skirt are 3 sweet ruffles. The back of the skirt is elastic, allowing for growing room. The blouse features a delicate ruffle around the center gathered neckline. The blouse is loosely fitted, with the sleeves and bottom hemline cinched in with shirring. Whether you make this skirt & blouse set dressy or for play, you'll be as much in love as we are.
Pair with the misses pattern for a stunning mother/daughter look!
The Instant Download PDF Includes:
Sizes: 2T - 10 years
Size Chart, Fabric Requirements, Fabric Recommendations, Notions, and Sewing Tips
Full tutorial and step-by-step instructions, including over 60 color photos to clarify each step for beginners

Includes (2) Downloadable Files:

US Letter (A4 compatible): Print from home with regular computer paper, tape together, and then cut pattern pieces

A0 Copy Shop (Projector compatible): Send off to print large scale or use with your at home projector

Click here to download the free Vivienne Coloring Page.
You might also like
Customer Reviews
Write a Review
Ask a Question
Filter Reviews:
pattern
instructions
skirt
granddaughters
embroidery
each
Ruffles
compliments
lots
designs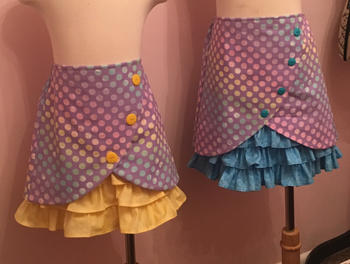 12/15/2020
Great fun design!!!
I was so excited to make two skirts for my granddaughters with this pattern. I can't wait for them to see theirs on Christmas morning and I am sure their mom will want one for her too
Manuela G.

United States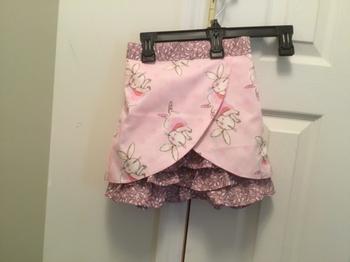 02/10/2019
Variation to instructions
I love the way the final skirt I made looks but I had extreme difficulty putting the skirt ruffles on the inner skirt I also could not get the ruffles lined up based on the instructions So I cut off about 3 inches off the top of the inner skirt and added fabric to match the ruffles and pulled it outward to make a band Yes I would buy again This worked much better than what I was trying to do per instructions So the skirt I made ended up with wider waistband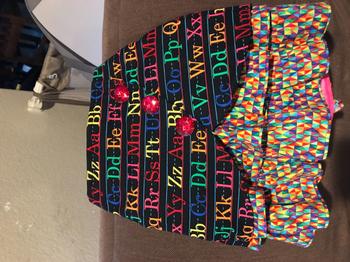 09/05/2018
Vivienne skirt
The pattern was very easy to use. I made 2 skirts and they turned out very cute. I really loved the elastic in the back. My grands are tiny and so I could adjust the elastic very easy. The only issue I had was sewing the ruffles my material and it moved. So I had puckers on the inside. But I think the more I use the pattern and pay attention it will get better.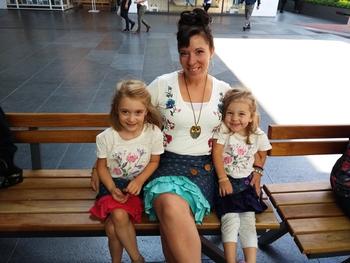 05/02/2018
Ahmazing!
As with each of the patterns that I have purchased from Violette Field Threads, the pictures actually represent the finished product! The patterns are easy to adjust for my super skinny girls and because they are so simple, I have made up doll versions and an adult version just off of the kids pattern. Love all of your products!
06/28/2022
Vivienne
Great step by step directions. Granddaughter chose mermaid fabric at Hl and I added the solid ruffles. I also used the underskirt pattern, added pockets and made a simple a-line skirt.
12/20/2020
My first experience with online patterns
Violette Field Threads patterns and instructions are very easy to use and easy to understand. The pattern fit together perfectly and the results were beautiful! I made two skirts., one for each of my 4 year old granddaughters. I will definitely buy from them again! One tip: make sure you have enough printer paper before you print the materials!
Nancy S.

United States
12/11/2020
vivi blouse & skirt
I have not made it yet. But I love all VTF patterns. My only suggestion is to list fabric sources on the model garments.
Ruth G.

United States
05/31/2020
Favorite skirt pattern yet! Even purchased the adult size
Loved it! Very Easy! Cannot wait to make some more!!
Melinda G.

United States
11/25/2019
Out of stock ?
I could not buy this pattern in a child's size . Is it still available ?
Penny l.

Australia
06/06/2019
Vivienne Skirt and Blouse
I have yet to make up this particular design, but I have no doubts that it will be easy to make using your excellent instructions. I am at the moment almost at the finishing stages of both your Gracie and Elodie designs and they have been a dream to make.
02/10/2019
Vivienne skirt and blouse
This is a brilliant pattern. I made the ruffles out of pre gathered lace to give a light tone to the skirt and a white ribbon bow instead of buttons.. i made a white embroidery anglaise top to go with it. I see this skirt being made to dress casual or dressed up. I have 4 more to make within the next two weeks. This pattern comes together realy quickly as well.
02/09/2019
Vivienne skirt
Loved making this skirt , found the pattern easy to follow and there was lots of compliments, will definitely be making more .
01/23/2019
Pattern
I love it! Very simple
05/01/2018
Ruffles should have been easier
The skirt turned out great. My granddaughter wears it well. The only recommendation I would have is the ruffles. The bottom one worked better for me sewing it off the bottom of the underskirt instead of on top of it. I actually took it off and redone it. I done it the first time by following the pattern. It takes a little less material and time the other way. Just a suggestion thank Colleen Goodman
12/15/2017
Vivienne skirt
To be honest, I havent made it yet but looking through the instructions it seems very informative and if the other patterns Ive made in the past are anything to go by Im sure this one will turn out just as fab!! :)
04/13/2017
Love it!
The pattern ist very well written and everything is understandable... The pictures are a good help! I would definitly buy it again!!! Thank you!