Poppy Tunic & Dress
digital pdf sewing pattern
$9.95
View Sizing Chart
Poppy is a gorgeous dress or tunic featuring a square yoke front and back bodice.  Poppy can be sewn with either a flat bottom panel or a ruffled bottom panel that allows for tons of twirl!
Three sleeves are included: angel sleeves, double flutter sleeves or short ruffle sleeves. Poppy has a moderate ease which allows for it to be made with or without a back button tab.  
The Instant Download PDF Includes:
Sizes: 2T - 10
Size Chart, Fabric Requirements, Fabric Recommendations, Notions, and Sewing Tips
Full tutorial and step-by-step instructions, including over 40 color photos to clarify each step for beginners

Includes (2) Downloadable Files:

US Letter (A4 compatible): Print from home with regular computer paper, tape together, and then cut pattern pieces

A0 Copy Shop (Projector compatible): Send off to print large scale or use with your at home projector
Click here to download the free Poppy Coloring Page.
You might also like
Customer Reviews
Write a Review
Ask a Question
Filter Reviews:
pattern
dress
instructions
poppy
ways
daughter
pictures
sleeves
girls
options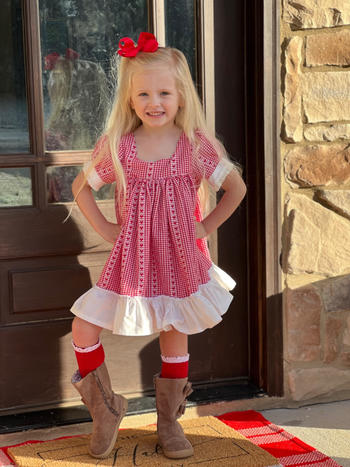 02/10/2023
So unique
The unique construction was fascinating! I love the way it came together!
Danielle H.

United States
02/26/2020
Adorable sleeves!
With Poppy, I gained a couple of skills (because I made a few of them at one time for my granddaughters). The sleeve trim was special, and though I have done rolled hems before on my serger, I did lots more of that for the lower ruffle to the point that I have a better quality. There is one concern with Poppy - which may be me (and the way I used the template for the arm holes, or how I set in the sleeves) or perhaps it is the way the pattern is designed. It seems like the sleeves are a bit constricted - which would make it hard to raise the arms if the dress was not so full with gathers. Overall - I love VFT patterns and these will be beautiful for my granddaughters!
Deborah L.

United States
11/06/2019
Best patterns ever!
I love all of my vft patterns! Very clear instructions, lots of options, and beautiful clothes. My daughter loves her Poppy dress!!
Rebecca B.

United States
10/31/2019
Love this easy boho dress
Was so easy to put together. Love the options of no buttons in the back as well.
Sheila H.

United States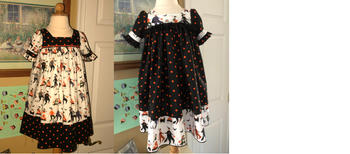 10/26/2019
Poppy for Halloween
Pattern was easy to assemble and dress easy to construct with clear directions. The short sleeves in this pattern are darling and I'll be using them in other patterns!
GWEN M.

United States
05/01/2019
Great dress patterns!
I found the London dress pattern and tutorial to be excellent! I've been sewing clothes for myself and my family, off and on, for over 50 years, but I learned a few new things just by making the London dress for my granddaughter. Thanks for the easy, common sense directions and the wonderfully inspirational pictures of different ways to use color combinations!!!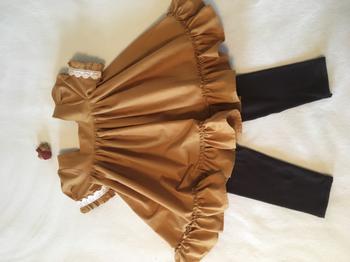 10/26/2018
Beautiful
I made two Poppy dresses for my nieces, and they turned out beautiful. I can't wait to make some for my girls! The directions were easy to follow, and the results look like something out of a boutique. I am not a skilled seamstress, but the VFT patterns make me look like I know what I'm doing! Thank you VFT for another gorgeous pattern.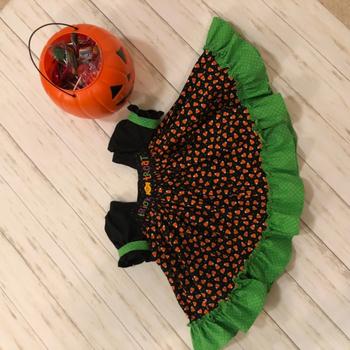 10/22/2018
Beautiful Dress! I adore the finished product, and can't wait to make more VFT dresses in the future.
Very clear, easy-to-follow instructions.
10/02/2018
Beautiful
I love this pattern! This dress is fairly easy to make and turns out just beautiful! I really enjoy the patterns and easy to follow instructions if this pattern.
08/08/2018
Your patterns are so user
Your patterns are so user friendly. I was able to produce a beautiful dress for our special occasion. It increased my confidence incredibly! Thank you!
04/02/2018
Poppy Dress
I have already used this pattern several times soon after buying it. I have made both the long and short versions. They are adorable and I plan to make more. I love that my daughter will be able to grow with them as the bodice is so short and the skirt so full.
03/04/2023
Wonderful
Very easy pattern
Lorraine H.

United States
02/11/2023
Brilliant as usual. Great instructions.
Veronica B.

United Kingdom
02/24/2021
VFTs PDF pattern review
I enjoy creating many fun and beautiful things with VFT patterns. I have learned so many new and creative ways to sew with your patterns that involved so many steps in the past. These patterns are very bold and creative and meets the needs of young girls that love to twirl and act like little girls. It would be great if VFTs would come out with patterns for boys. Some of the current patterns for girls, converted to include patterns for misses can be at times troubling. These patterns were great for babies , girls and tweets. The style on young women may work but a mature misses may have trouble seeing herself in one. My last issue is the printing of the PDF pattern. I recently purchased a PDF pattern from a company outside of the USA. I found that the printing of that pattern was quicker than the VFT pattern. When printing a pattern I often forget to turn off color option.. It would be nice if the color option would be turned off automatically and would ask if the user would like the color option. In conclusion, VFT patterns are fabulous. (I dislike that word but it is how I feel.) VFT patterns include many great tutorials filled with methods that can be used so often by the person in front of the sewing machine. Each sewing project is different but how it is put together is or can be very similar and methods can be used over and over again. I have not used the Poppy pattern yet but made two dresses using the Reagan pattern and the Fleur pattern. So many of my friends love the little bag created with the La Fleur pattern. They told me that they wished that it had closure so that contents of the bag would be more secure from falling out of the bag. Thank you for letting me provide you with my humble comments. Nada
Nada F.

United States
08/28/2020
Fit is adorable
Easy to understand instructions and so cute on!
Lori F.

United States
10/15/2019
Such a cute sew!
It's been a fairly easy pattern. I was terrified of the placket (optional) but the step by step instructions with pictures was pretty easy to follow..
Kallie B.

United States
08/30/2019
Beautiful
I thought going into sewing this dress that it would be very difficult. However the directions were clear and it turned out great!
Andrea B.

United States
07/21/2019
Potential make
i have not yet made this pattern up as I have been busy making Elodie, Gracie, Sadie and Vivienne. I have no doubts though that Poppy will be as much of a pleasure to make as the others have been. Your instructions and diagrams are so very easy to follow and the end products are amazing.
Eve K.

United Kingdom
06/14/2019
Can't wait to start
Just finished 2 versions of Kennedy. Can't wait to start on Poppy.
Anne S.

United States
06/10/2019
Poppy dress
I bought the Poppy pattern to make my 3 year old a dress for her sister's upcoming christening. I measured her and cut the pattern pieces according to these measurements. However I found the dress to be quite short (a good 3 inches above her knee). I've checked and checked again that I'd cut the correct size and dress rather than tunic. I love the pattern so I've decided to to use what I've already made as a tunic instead and start the dress again, lengthening a couple of inches.